Exceptionally high prices were paid for gold and silver jewellery during the December sale at the Lincoln auction rooms.
Three gold bracelets and a gold coin made over £3,000 at the sale at Thomas Mawer and Son's Portland Street saleroom on Saturday (December 5), proving that demand for precious metals has not yet abated.
Auctioneer Clinton Slingsby said: "There was a huge appetite for gold and silver in this sale with gold jewellery in particular making high prices.
"We would encourage people wanting to make money from their unwanted gold to try their local auction house rather than sending it away to be valued, as competition from several bidders usually ensures the best prices."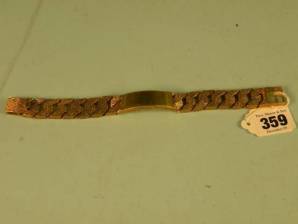 In the jewellery and silver section, the highest price paid for a single item was £1,000 for a 9ct gold gent's bracelet, whilst a six-coin 9ct gold bracelet, featuring a Swiss 20 franc dated 1917, a French 20 franc dated 1910, a Dutch 10 guilder 1911, a Mexican 10 pesos 1959, a 1914 sovereign and a Belgium 20 franc 1874, fetched £800.
Meanwhile a modern gold and enamel bracelet mounted with five Victorian sovereigns made £780, a 1947 commemorative gold 50 pesos coin in a gold mount fetched £600 and an 18ct gold graduated chain made £520.
A 9ct gold, engine turned, pocket cigarette case by Asprey, London, made £780 and an 18ct gold pocket watch with an enamelled dial signed 'S. Goldstone, Manchester' made £540, well above its £200 to £300 estimate.
A four-piece silver tea service made by Walker and Hall of Sheffield in 1917 fetched £500.
Among the furniture, an oak Wabash Improved Rival Filing Cabinet from a local private vendor
and another three-sectional filing cabinet by 'The Globe Wernicke Co of Cincinnati, USA' fetched well over their £200 and £400 estimates to make a hammer price of £1,300.
A good sized late-Victorian walnut partner's desk also made more than expected when the hammer went down at £780 and a 1960s to '70s Scandinavian-style rosewood extending dining table and a matching sideboard with chrome plated handles and supports fetched £840, well over its £200 to £300 estimate.
A pair of French mahogany single beds with gilt metal mounts and a matching dressing table with a marble top fetched £920.
In the bygones section, an early 20th century German apricot coloured plush teddy bear in very good condition and unusual because of its colour made £150 and an extensive collection of over 1000 Lincolnshire postcards made nearly £250.
Items are now being accepted for the next sale which will be held on Saturday, January 9. A full catalogue will be available online a week before the sale. For more information log-on to www.thosmawer.com or phone (01522) 524984.