Items from the estate of well-known late-Lincoln estate agent and auctioneer Tony Brogden will go under the auctioneer's hammer on Wednesday, July 17.
Mr Brogden, who owned Brogden and Co estate agents and salerooms, passed away on March 21 this year aged 93. Now the residual contents of his house in Canwick will be sold at the Lincoln auction rooms of Golding Young & Mawer on Wednesday, July 17.
Well known in the Lincoln community, Mr Brogden was Sherriff of Lincoln in 1969/70 and a member of the Rotary Club of Lincoln.
Auctioneer William Gregory said: "Tony Brogden was a well-known Lincoln chartered estate agent who was one of the first auctioneers to hold sales at the Cornhill and the Barracks."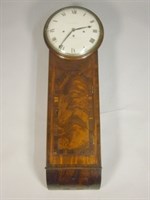 Highlights from the estate include a William Thomas of Lincoln clock which has an estimate of between £300 and £800, a George III mahogany chest on chest estimated between £500 to £800 and a George III mahogany sideboard which also has an estimate of between £500 and £800.
There is also a collection of silver to include hip flasks, a number of local prints from the Usher Gallery, deed tins which hold the Brogden name and leather cases.
Among the 1,700 lots from over 300 vendors, there is an unusual 19th century oak console table which is supported by a ship's mast head and has an estimate of between £1000 and £1,500.
Within a section of over 80 lots of jewellery, there is a ladies Rolex Oyster Perpetual Datejust wristwatch with an estimate of between £1,000 and £1,500, a number of nine and eighteen carat gold pocket watches, watch chains, sovereigns and other gold coins.
The sale also features collections of Lalique glass, Beswick, paperweights, modern Steiff teddy bears, books and postcards.