"Loneliness is the penalty of leadership, but the man who has to make the decisions is assisted greatly if he feels that there is no uncertainty in the minds of those who follow him and that his orders will be carried out confidently and in expectation of success." Ernest Shackleton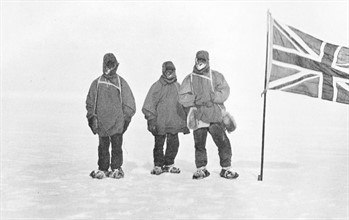 The first sale of 2019 at The Grantham Auction Rooms will welcome one of the most exciting collection of lots in the field of human endurance and endeavour that the market has seen in recent years.
The items were the property of William Charles Roberts, whom had the equally cursed and blessed fortune of being chosen to be the cook upon the 1907-1909 British Polar Expedition to the South Pole. Roberts answered to this advert placed:
"Men wanted: For hazardous journey. Small wages, bitter cold, long months of complete darkness, constant danger, safe return doubtful. Honour and Recognition in case of success."
Well, wouldn't you be tempted?
Roberts took the plunge and in 1907 set sail on the White Star Line S.S. Runic to New Zealand where the final preparations were made for what would be a two year battle with everything that the advert had promised - and more.
While the expedition cannot be abbreviated, (Shackleton wrote extensively on the subject for many years) the outcome was not a success; Shackleton devastatingly falling short by a matter of miles after one of the most tortuous journeys to have ever been attempted. Nevertheless, Shackleton returned a hero after placing the Union Jack in Antarctica and claiming the continent for Britain and King George V.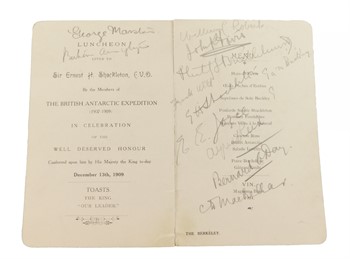 The collection itself represents previously unseen items from the expedition, including the original contract of employment between Roberts and Shackleton, an exceedingly rare menu card from the Midwinters Dinner celebrations upon Cape Royds and a collection of other materials, spread across six fascinating and unique lots.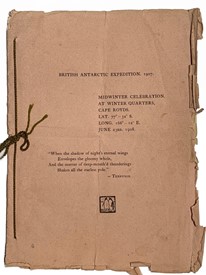 "Difficulties are just things to overcome." Ernest Shackleton
The items will be offered for sale within the Grantham Collective Sale on Thursday 3rd January 2019. Viewing will be open on Wednesday 2nd January 2019 from 10am to 4pm and from 8.30am on the morning of the sale.