Twenty years ago the idea of G-Plan, Ercol or other 1960's and '70's furniture making reasonable , never mind good money at auction, would have been an anathema to most people in the salerooms. Now, however, this furniture is enjoying something or a revival and demand often far exceeds that of the more traditional antique furniture.
Ercol was formed in 1920, in Buckinghamshire, and took off commercially during and after the Second World War, making mass produced furniture which, nevertheless, reflected contemporary style and at prices which made it affordable to mainstream buyers.
Two examples of Ercol's furniture are offered at the Bourne Collective Auction on the 12th July.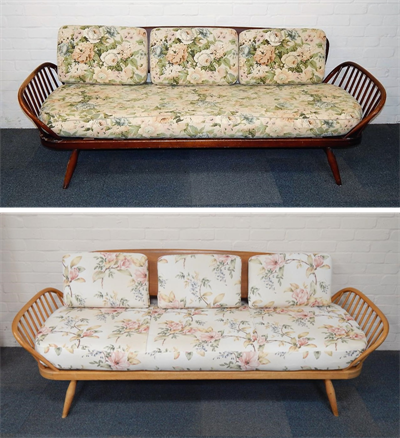 Both are day beds which double up as sofas, with Windsor type arm rests, detachable back boards and loose cushions. Depending on your preference one example is presented in traditional dark oak (lot 91), whilst the other is in the more up to date light beech and elm (lot 194). Both are estimate to realise in the region of £200-300 each. Design classics to suit any home at affordable prices.
The Collective Sale will be held at The Bourne Auction Rooms on 12th July 2017 from 10am. Viewing is on Tuesday 11th July from 10am until 4pm, and from 8.30am until 10am on saleday.