Examples of the best traditions of English silversmiths in the 20th century are to be offered as the bedrock of Golding Young's silver sale at The Bourne Auction Rooms on Wednesday, 12th July. Foremost of the lots on offer are a number of pieces by the renowned designer Omar Ramsden, made either under his auspices alone, or in association with Alwyn Carr.
Omar Ramsden was born in 1873, studied at the Sheffield School of Art and the Royal College of Art, where he met Alwyn Carr. By their mid twenties they had set up studios and workshops in London exploiting the fashion for good quality Arts & Crafts design. His pieces were often inspired by Renaissance and Gothic motifs, and with Celtic inscriptions. His partnership continued with Carr until 1919, and thereafter he operated in his own right.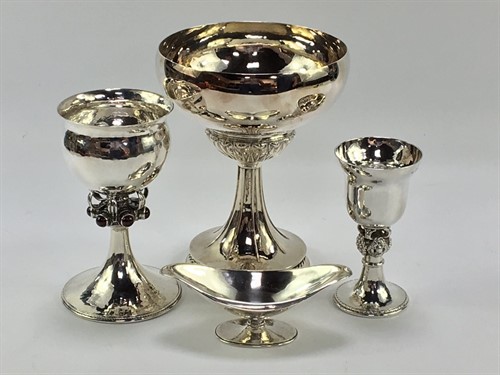 Among the pieces on offer is a superb large chalice or sweetmeat dish, hallmarked 1936 with a decorative knop of palmettes (lot 1) with an estimate of £1000-1500, a Omar Ramsden silver goblet hallmarked 1938 (lot 3) and estimated at £600-900, a Ramsden & Carr chalice with a jewelled knop (lot 2) hallmarked 1912 and estimated at £800-1200, and for collectors with less deep pockets, a Ramsden & Carr silver salt of navette form (lot 8) hallmarked 1911 with an estimate of £100-150.
Other silver included for auction include examples of work by Stuart Devlin, Robert Stone and Mildred Creed, together with good Chinese and Japanese silver from the late 19th and early 20th centuries.
The Collective Sale is to be held on Wednesday 12th July from 10am. Viewing is on Tuesday 11th July from 10am until 4pm, and from 8.30am until 10am on saleday.