Antique silver is one of the best investments you can make today; your items won't deteriorate in condition and each piece will only increase in value over time. On May 14 we have some beautiful Georgian and Edwardian pieces for sale at our Bourne Auction Rooms.
We expect Lots 4 and 6 to attract particular interest from bidders. Lot 4 is an Edwardian conical sugar sifter by Henry Atkin & Co of Sheffield, and Lot 6 offers bidders the chance to own a Georgian 1821 hallmarked teapot, possibly part of a 5 piece set, by Joseph Angel of London.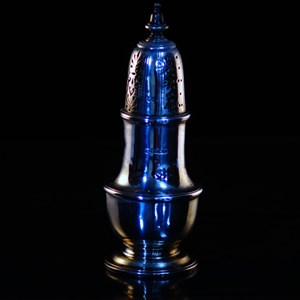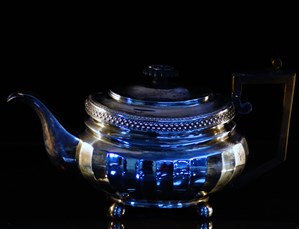 One of the most damaging things to happen to the antiques industry of late was the rise in silver prices. A few years ago people could achieve a record price for silver at £19-£20 per ounce, this meant that many antique pieces were sold and melted down. We have lost many interesting, rare, and beautiful pieces as a result. This makes the antique pieces still in existence extremely rare and something to be truly appreciated and cherished.
The good news is that we are starting to see a shift, silver prices have dropped and people are once again seeing the true value of investing in and owning antique silver items. This is great news for both traders and collectors.
Visit the Bourne Auction Rooms on May 14, from 10.00am, for your chance to bid on the Lots mentioned. If you would like to preview the items for sale beforehand, they will be available for viewing on Tuesday May 13, 10.00am - 4.00pm, and 8.30am - 10.00am on the morning of the sale.
If you would like further information, please contact our team at the Bourne Auction rooms on 01778 422 686 and we'll be happy to answer any questions you may have, alternatively, view the full sale catalogue online.