The specialist Asian Art sales at The Grantham Auction Rooms are now in their seventh year and are continuing to post exceptional results, with works of art from the Far East being spread across the globe.
The sale on 2nd November 2016 was no exception, with bids received from China, Hong Kong, Japan, Malaysia, Vietnam, the US and across America.
The latest offering of almost 200 lots saw prices at all levels with one notable lot exceeding all expectation.
Lot 3158 was a Chinese hardwood marriage chest of fairly plain proportions but of great colour and probably of late 17thC/early 18thC construction.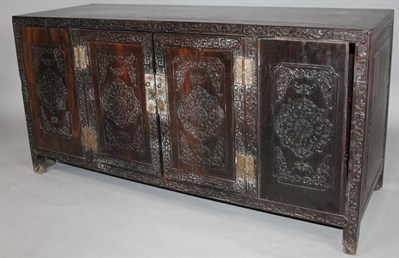 Auctioneer Colin Young said, 'When opening the lot I commented on what an exceptional and stunning lot it was, and asked for bids of £4,000 to start. There was no response until the bids opened at £1,000. This rapidly rose with a good old fashioned mix of strong bids in the room, a bank of four international telephone lines and of course the inevitable internet screen on the rostrum. Ultimately the final bids over £15,000 were taken up by the telephones, with a final securing bid of £26,000.'
This sale marks an interesting twist in the Chinese market, as for many years furniture has not fared that well at sales with all of the focus being on ceramics. This is now two sales running that have posted notable prices for furniture, and alerted a significant refocusing on this art form.
Moving to other traditional subjects, bronzes and ivory continued their popularity with Lot 3009, a Japanese Meiji period Tokyo School bronze by Seiya Saku Genryusai Seiya, hitting a mid estimate £320, and Lot 3013, a classic piece of quality Meiji period carving figure group of a gentleman holding a staff, probably Tokyo School, realising £400.
The feast of ceramics saw Lot 3019, a Chinese vase, outstrip its estimate tenfold to £600, exhibiting that even 20thC pieces can still create a stir if the quality is there.
A group of three 18thC Chinese porcelain dishes (Lots 3021, 3023 3024) made an aggregate of £1,180, consigned from a Grantham home.
Lot 3032 was a blanc de chine figure of Guan Yin, some 35cm high but having damage, was bid on the internet to £1,600 against telephone interest. A 20thC Japanese Imperial vase, only 12cm high, was secured at £750 for Lot 3056 and complemented by Lot 3193, a famille noir vase, 21cm high, at £500.
Probably the most telling lot of the sale, which encompasses the whole of the Asian Art market, was Lot 3119, being a Chinese folding low screen with a combination of polychrome porcelain panels of geishas and floral landscapes.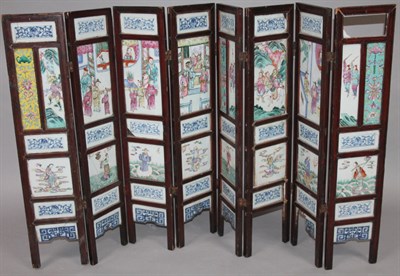 A beautiful combination of restrained furniture encompassing the fine art of the potter. Some small damage, very much reflecting the age of something approaching 200 years old, just adding to the character. A reasonable estimate of £600-800 encouraged enormous interest in the room by commission bid, by telephone bidder and ultimately secured at an over estimate price of £1,100.
For further information about this sale contact CR Young MRICS – 07976 977169 cry@goldingyoung.com
To consign to the next sale contact grantham@goldingyoung.com