The contents sale of Dunningwell Hall near Millom produced many great results.
Although there were no outstanding individual lots, the variety brought the appeal.The sale opened with a full-size billard table by Norval & Sons of Glasgow and formerly of The Pennington Social Club, Furness. Despite a very limited market, it sold for £600.
Thereafter, the bids were flooding in; a welcomed term for once following the extreme difficulties Cumbria experienced in the week preceding the sale on the 19th December 2015.
Out of over 150 bidders only one had faced some difficulty. Having left Absentee Bids with auctioneers Golding Young at viewing, the lady struggled to makes contact for days after with her home telephone and broadband completely under water. Nevertheless, she still managed to buy and collect.
The momentum of Lot 9, a 19thC ormolu balloon clock, was palpable racing to £220 despite lacking its pendulum. Also in perfect time was Lot 18, a 19thC Vienna regulator type wall clock which sold for a double-estimate of £170.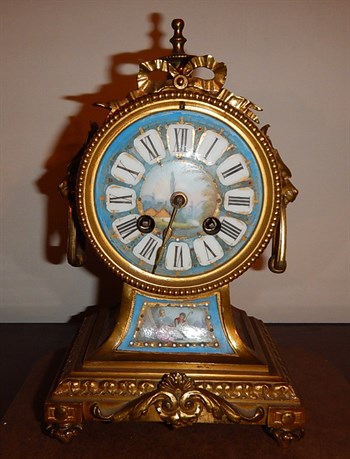 Furniture faired well with a highlight price of £950 for Lot 30, a Victorian walnut sideboard. Today a good example could sell for up to a thousand pounds. This lot had its back missing, a water damaged top, missing veneers and more. A stunning result some three times better than you expect in a saleroom.
With so many churches and chapels closed over the last 10 years pews have been making £20-30 each, so it was good to see some examples reaching £100 once more.
One of the strangest items was Lot 38, a 1930's Cape Buffalo skull and horns trophy, mounted on a shield shaped oak plaque, and inscribed Embu, Kenya, 1936, the buyer taking his prey at £160, it was an impressive hunt!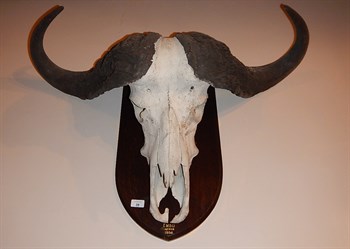 Lot 43, a pair of mid 19thC gilt brass and cast bronze ewers, bought at the Dutton Manor Sale, May 1949 for £3, 14/-, they sold this time for £400.
Auctioneer Colin Young said, 'Bedroom furniture was the strongest I have seen it all year. If someone wanted it, there were at least 3 more that did as well.' Top price was for Lot 46, a Victorian walnut breakfront wardrobe selling for £700.
The fine art was quite mixed, but well received locally and abroad.
International interest came for Lot 151, a 1904 seascape oil by Lars Laurits Haaland (1855-1938) in heavy gilt plaster frame, 70cm x 110cm. Not deterred by the canvas being relined, this returned to it's native Norway courtesy of an internet buyer at £650.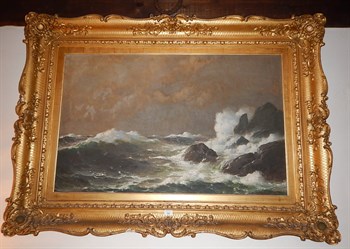 A local scene created even more excitement. Lot 152 a view of Millom at night and the glow of the iron works, oil painting by Victor Craven Hodgson, 26cm x 100cm, sold for four-times top estimate at £600. A local scene, fought out by local bidders.
Books were in abundance at the sale. The better group (lots 192-215) inc. Strand Magazine made over £750.
The last of the interesting lots in the sale was lot 282, a damaged pair of Chinese dogs of fo, with candle holders, and another. These were sold for £360 to a UK specialist buyer despite strong interest from China.
Auctioneer Colin Young said, 'With the village hall comprising a rich mix of private buyers, dealers (and both!), these knowledgeable bidders were here to buy. There were no on-lookers. And with those unable to attend leaving bids or bidding on the internet, it was always going to be a very easy sale to take. The best lots sold very well indeed'
The sale concluded with a further 400 lots of general furniture and effects.