The Duke of Wellington is one of Great Britain's most iconic figures. In particular, his victory at Waterloo against Napoleon's army has gone down in history as one of the country's greatest victories.
Golding Young & Mawer are offering a collection of ephemera in their next Collective Sale on the 20th of May at The Lincoln Auction Rooms, which gives a personal insight into the world of one of Wellington's inner circle during the Peninsular wars.
Sir George Scovell (1774-1861) was not only one of the officers with Wellington at Waterloo, but latterly he was an Aide de Campe (personal assistant) to King George IV and the Governor of Sandhurst Military College.
Included in the sale are a collection of letters relating to Sir George's career, an invitation to the internment of King George IV and invitations to Wellington's funeral for Sir George, his wife and his son. Interestingly, Sir George was to be seated in the prestigious area in the centre under the dome in St Paul's Cathedral yet his family was to be sat elsewhere on the north side of the nave. The collection is split into five lots and is estimated to make in excess of £800.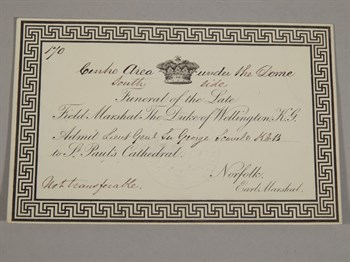 Also consigned from the same collection are a number of items from later generations of the Scovell family. Perhaps the most interesting pieces relate to Colonel Edward Scovell. He had a very distinguished army career, mainly at the beginning of the 20th century in Africa and the Middle East, moving on to service in the War Office during the 1st World War and finally serving as the General Secretary of the Liberal Party. Items from throughout his career are included in the sale to include photographs, letters, personal files etc.
The auction of over 1300 lots also includes diamond rings ranging from just under one carat to over three carats. There are also over 200 lots of other jewellery and silver. The militaria section includes a pair of swords previously belonging to Edward Nelthorpe of Scawby Hall, Lincolnshire. There is also tribal art from Australia and Fiji and a wide array of interesting and exotic items that definitely should not be missed.
The sale at The Lincoln Auction Rooms is on Wednesday, 20th May and will commence at 10am. Viewing is on Tuesday 19th May from 10am to 4pm and on saleday from 8.30am.