We were one of the many local businesses gathered in St Wulfram's Church on Friday 2nd November 2018 for the much anticipated Grantham Journal Business Awards. The event was proceeded by canapés, a formal dinner and was enjoyed by all; guests and finalists alike.
The Business Awards celebrate local achievements across 12 categories, and Craig Bewick MRICS, our Grantham Head of Department, had made it to the final three in the Employee of The Year category. This was led by his achievements at progressing through his Royal Institute of Chartered Surveyors (RICS) qualifications. Therefore leading to him being a fully qualified Chartered Arts & Antiques Surveyor.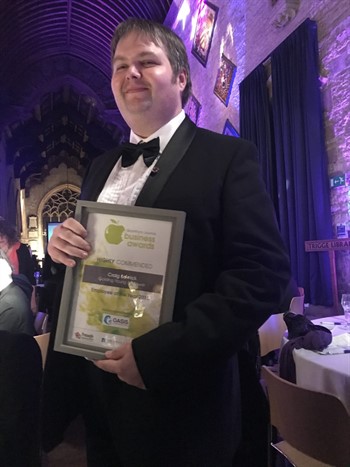 It was a very close competition throughout the judging process, which all came together with the prestigious evening event. The awards began by introducing each nominee via a video. Craig's category sponsored by Oasis Underwriting saw close competition, which eventually concluded with a runner-up position. This is no small task with a high level of competition just to make it to the top three.
A huge congratulations go to Craig for making it to the short list, and a huge thank you goes to Iliffe Media and the Grantham Journal for such a lovely evening.
To see how the other categories faired visit the Grantham Journal website for more information.