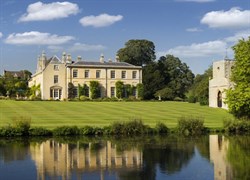 Golding Young & Mawer were approached by the outgoing owners of Holywell Hall, near Stamford. The owners had sold the property and had a surplus of antiques, works of art and modern furnishing that they wished to dispose of before moving. There was a four week deadline, from instruction, until the new owners took possession of the Hall.

Process
With the tight deadlines there was no time for a printed catalogue. After thorough and detailed valuations on-site, a fully illustrated online catalogue was prepared featuring the 517 lots offered. This was made available online ten days prior to the auction which was set to take place on September 25th 2013. The sale was supported by promotion through our three salerooms and Stamford valuation office, the local and international newspapers together with social media.
The Sale
Viewing was made available for 3 days before the sale. Sunday was by far the busiest day, with over 100 people registered to bid by the mid-afternoon.
On the sale day over 250 buyers from 10 different countries had registered for online live bidding. At the start of the auction the 200 seater marquee was full. Highlights from the sale include: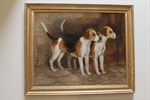 Works of Art
A John Knapp-Fisher work entitled 'White Sands' sold to a successful bid of £1,100 (lot222a)
A Constance Pitcairn work depicting 'The Queen at the Carisbrooke Fete' achieved £5,400 (lot272)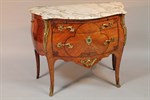 Furniture
Boston upright piano, designed by Steinway & Sons, fetched £1,500 (lot308)
A pair of late 18th century mahogany hall chairs made £1,100.

Decorative Furnishings
A large mid-17th century Verdure Aubusson Tapestry made the top price on the day at £7,000 (lot67)
Two tribal art paddles made £4,600 and £3,000 respectively (lot 497a and 497b)
Outcome
94% of the lots were sold either on the day or shortly thereafter. The entire sale exceeded £100,000.
What the vendor had to say
"Colin, the team working with you are fantastic... They have worked so hard and have been charming and efficient... Excellent auctioneers! "