Clock collectors have been fascinated with the Congreve clock for the past two centuries. Originally invented by Sir William Congreve in 1808 and presented to the Prince Regent in that year to great acclaim (the Royal Collection still has a version of the clock) its most unusual feature is that it uses a ball rolling along a zig-zag shaped track as the pendulum. The motion then trips the escapement, which in turn reverses the tilt of the track, causing the hands to move forwards. Understandably due to dust on the ball and track they are actually not good timekeepers, but the quirky mechanism makes them highly collectable.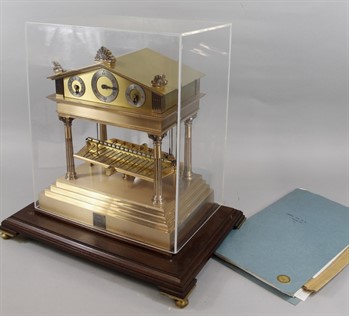 Golding Young & Mawer at The Lincoln Auction Rooms are offering a limited edition example (number 85 of only 100 made) by the firm of Thwaites and Reed in their auction on Wednesday, 14th of June. Consigned by a local collector and sold with the original purchase receipt, history and setting up instructions from 1972, the clock is expected to make in excess of £700 under the hammer.
Also included in the sale will be another local collection of Royal Crown Derby porcelain paperweights and Imari decorated pieces. Collected by a Lincoln man over a number of years the range of items is vast. From a Gypsy caravan and horses to vases, cups and saucers in total there are nearly 200 lots in the sale. With other collectable British porcelain makers such as Royal Doulton, Beswick, Royal Albert and Wedgwood represented through in excess of 300 lots there promises to be something for the majority of collectors.
The terms 'retro', 'vintage' and 'mid century' have become widely used to describe items not necessarily antique but that are good examples or typical pieces of the latter part of the 20th Century. The auction on the 14th and the following sale on Wednesday, 19th of July will feature pieces collected locally over the last 20 years that fit these terms perfectly. Ranging from 1950s bars, chairs, stools and display cabinets to coloured glass designed by Geoffrey Baxter for Whitefriars and Scandinavian pieces from Kosta and Orrefors there are pieces for all generations.
In the jewellery section of the sale perhaps the most unusual item is a 19th Century bloomed gold locket. The locket is undoubtedly of high quality and by repute it was given by Queen Adelaide to a friend of hers. It has the initial 'A' below a crown within a small compartment containing hair and was handed down to the vendor via a distant relative who was a cleaner for the recipient. It is expected to make in excess of £1,000 in the sale.
Overall the sale will include in excess of 1700 lots of furniture, ceramics, glass, silver, pictures, books and collectables.
The Collective Sale will be held on Wednesday 14th June at The Lincoln Auction Rooms from 10am. Viewing is on Tuesday 13th June 10am – 4pm, and from 8.30am-10am on saleday.