Local collectors will be setting the pace when a bronze medallion commemorating the Horncastle to Skegness Walk in 1903 goes under the auctioneer's hammer in Lincoln.
The medal, awarded to W.S. Williams in June that year, will be featured in the bygones section of the next auction at Thomas Mawer and Son of Portland Street on Saturday, February 6.
Auctioneer John Leatt said: "This is an interesting piece of social history commemorating a walk which still takes place today.
"It is sure to catch the attention of local buyers and collectors interested in Lincolnshire history."
The medallion's inscription reads: 'Walk Horncastle to Skegness, June 24th 1903, Distance 24 miles, Time 3 hours 34.5 mins. W.S.Williams.'
According to a newspaper report, the 1903 Walk started at the marketplace in Horncastle and finished at The Lion Hotel in Skegness where crowds came out to cheer the winning competitors. Out of 22 residents who competed for the prize of a silver cup, 20 finished the walk and first, second and third place were award to Mr Kidd, Mr Stones and Mr Lowe respectively.
Elsewhere in the sale, a collection of scent bottles, paperweights and studio art glass, including examples by John Ditchfield, Caithness limited edition scent bottles as well as those by Swedish and Italian glass makers, are expected to catch the attention of collectors. The entire collection was gathered together by a vendor from Louth and is expected to fetch between £200 and £400.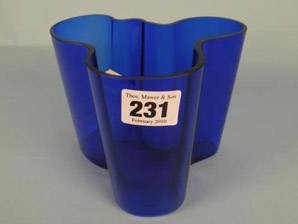 The lots expected to be most highly contested are a blue shaped vase by the artist Alvar Aalto dated 1995 and another lot which includes a square glass millefiore paperweight made by Mandruzzato of Murano and another indistinctly signed paperweight dated 1994 which is expected to fetch £50 to £100.
The bygones section includes a comprehensive stamp collection of mainly British examples dating from the late 19th century to the late 20th century. The collection is split into eight lots and one album containing some rare late Victorian stamps is expected to fetch between £500 and £800.
There is also a 19th century rocking horse in need of attention which is estimated to fetch between £100 and £200.
Among the books is a folio of prints titled 'Sketches in Ivanhoe Land' which is expected to fetch between £50 and £100. The five prints are taken from original paintings by W. G. Fox including 'Some Old Yorkshire Dovecotes' and 'Old Manor House in Braithwell'.
Among the paintings in the sale are four watercolours by the artist and author David Bellamy which are expected to fetch between £40 and £100 each. The paintings are titled 'A Cotswold Farm', 'Burnham Overy, Staithe, Norfolk', 'Bridge at Llanberis Pass' and 'A River Landscape'. Bellamy specialises in painting mountain and wild coastal scenes.
In the furniture section, there are two pieces of 19th century carved oak. The first is an English hall stand decorated with masks, scrolls and fruit which is estimated to fetch between £150 and £250; the second is a Continental buffet decorated with flowers, leaves, scrolls and dead game which is expected to fetch between £300 and £500.
Mr Leatt added: "These pieces are particularly good examples of 19th century carved oak. The carving is good quality and both still have a function in the present day."
There is also a late George III mahogany and pine chest with four long drawers and of good original colour and small proportions which is expected to fetch between £300 and £500.
A full catalogue is available online now at www.thosmawer.com For more information phone (01522) 524984.