Railway enthusiasts will be making the Lincoln auction rooms their first stop when a collection of N-gauge models go under the hammer.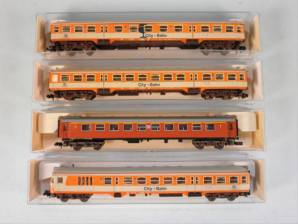 Over 50 model buildings and over 100, mainly German, locomotives and carriages by Fleischmann, Arnold, Roco and Lima will be featured in the next sale at auctioneers Thomas Mawer and Son of Portland Street on Saturday, August 5.
Another collection of over 20 Hornby 'OO' gauge locomotives, including models of The Mallard and The Flying Scotsman, will also be sold.
Auctioneer John Leatt said: "As these models are of high quality and mostly in original condition, we expect them to attract a lot of attention from model railway collectors and enthusiasts alike."
In the same sale, a pair of Victorian relief moulded jugs by Ridgway and Abington of Hanley in Stoke-on-Trent are set to attract the interest of collectors. The jugs, which are two out of a graduating set and depict a slave auction complete with poster stating 'Being auctioned this day - prime lot of healthy Negros', are estimated to fetch between £60 and £80. This slavery-related design, based on the Harriet Beecher Stowe book, was originally published by Ridgway and Abington in January 1853.
A pair of Victorian stoneware vases, one with cat head mask handles and the other featuring goat head handles, will also be featured in the sale. Mr Leatt said: "These vases were acquired by the owner from the Crystal Palace in London. Sadly expectations are not too high on these because they suffered bomb damage during the Blitz. We estimate they will fetch between £50 and £100."
In the bygones section, an extensive album of Lincolnshire postcards to include those of Boston, Woodhall Spa, Gainsborough, Sutton-on-Sea, Skegness and Mablethorpe, are estimated to fetch between £50 and £100.
An interesting map of Harmston Hall gardens and pleasure grounds during the occupation of George
T.P. Hinde Esq, by Robert C. Moore, dated 1843 is also featured. The map was previously owned by Mr Terence R. Leach, a well known Lincolnshire historian, who has included some early Lincolnshire coins, other coins and banknotes in the consignment.
There is also a box of over 50 ambulance men's badges from the Lincoln and District Ambulance Society.
The furniture section includes an Edwardian mahogany card table which features a built-in roulette wheel and is estimated to fetch between £200 and £300.
Thomas Mawer and Son is pleased to announce the date of the next specialist fine art sale which will be held on Friday and Saturday, October 1st and 2nd and will be combined with the regular monthly auction. Buyers will be able to view the sale and bid on-line via a live bidding system.
Entries are now being invited for quality items to be included in the sale and the closing date for entries is Friday, September 3.
To celebrate the recent merger of Thomas Mawer and Son and Golding Young of Grantham, the auction rooms will be producing a catalogue to cover the October sales at both salerooms.
A full catalogue for the August sale is now available on-line at www.thosmawer.com . For more information phone Thomas Mawer and Son on (01522) 524984.