A collection of scale models of stationary engines left in a shed for over 50 years fetched over £2,600 in the May sale at the Lincoln auction rooms.
The five 20th century models were bought at auctions in the 1950s and '60s by a retired engineer from Lincolnshire who placed them in his shed for safe keeping and only found them again recently whilst having a clear out.
Now over 50 years later, the dusty engines have soared in popularity and value. At the sale on Saturday (May 8) at auctioneers Thomas Mawer and Son of Portland Street, the collection made a total of £2,620.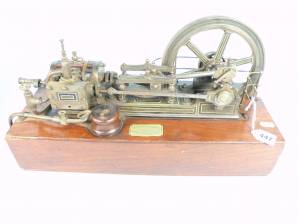 The highest price paid was £850 for a model stamped with the maker's name, 'J.W. MacDonnell of Stockton on Tees', whilst a live steam model of a 4,4,0 railway steam locomotive fetched £420 and a model of a horizontal stationary steam engine made £320.
Auctioneer John Leatt said: "As predicted, these models fetched good prices in the sale because they rarely come up for auction and it was unusual to see so many in untouched condition.
"There was a great deal of interest on sale day from collectors and enthusiasts."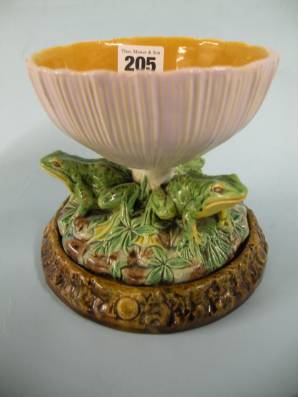 Meanwhile, a small 19th century Minton Majolica bowl decorated with frogs fetched £1,150. Bidding started at £600, then one telephone bidder and another on the Internet took the price upwards. It was finally bought by a buyer from London bidding over the Internet.
Auctioneer John Leatt said: "We are delighted with the price achieved for our vendors. They had inherited the bowl from a relative and had no idea of its value or importance. Interest was very high before the sale and the bowl reached its top estimate."
Over 150 bidders were registered to bid live online via an Internet bidding system. The facility has proved so popular that the next sale, held on Saturday, June 5th, will also be live online.
Elsewhere in the sale, a mid-19th century woolworkpicture of a ship expected to fetch between £200 and £400 made a hammer price of £500 and sold to a local buyer. These pictures were traditionally
made by sailors on board ships, or by their wives or girlfriends waiting for them to return home.
Of several pocket watches in the sale, two nine carat gold examples with gold fobs by Waltham USA which were estimated to fetch between £400 and £600 each, made £560 and £760.
Of the two Lincolnshire pocket watches in the sale, a silver pair-cased pocket watch with an unusual enamel dial painted with a ploughing scene by George Border of Sleaford fetched £360, just over its £250 to £350 estimate, and an early 19th century pair-cased pocket watch by clock and watchmaker John Hyde of Sleaford made £190.
Among the porcelain, a pair of 19th century Chinese cloisonné vases decorated with bats and flowers fetched £900 and sold to a commission buyer from Kent.
In the furniture, a late-19th century satinwood and marquetry oval Pembroke table, inlaid in the Sheraton style, fetched £260 and a Victorian walnut Wellington chest sold to a local buyer for £500.
The next sale will be held on Saturday, June 5. A full catalogue will be available online a week before the sale at www.thosmawer.com For more information phone (01522) 524984.