A collection of antique medical instruments will feature in the first sale of the New Year at the Lincoln auction rooms.
The 15 lots, which date from the late-19th century to the 1960s, have already attracted the interest of collectors to the sale at Thomas Mawer and Son of Portland Street on Saturday, January 9.
Auctioneer John Leatt said: "There is a large collectors' market for medical instruments and they are largely collected by those who have a background in medicine. In fact the collection was put together by a doctor some years ago.
"It is certainly unusual to have quite so many instruments in one sale and we have already had interest from collectors worldwide."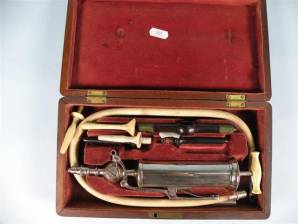 The most unusual item in the collection is a 19th century silver plated and ivory enema with bone attachments which is expected to fetch between £80 and £100.
There is also a late 19th century to early 20th century metal irrigation syringe by Down Bros of St Thomas Street, London, in a fitted mahogany case and a 19th century metal trephine (a cylindrical blade used for cutting bone) with a turned rosewood handle.
The bygones section of the sale also includes a brass theodolite with silvered dials by Negretti and Zambra of London which is estimated to fetch between £200 and £300, a 19th century brass microscope by R and J Beck Ltd, London, in its original mahogany case with a 1.30 Reichert Wie extra lens and a Victorian brass portable microscope in a mahogany case.
There are also several vintage home entertainment items, from a wind-up gramophone with two extra horns, a vintage PYE television set in a walnut case, a HMV portable gramophone in an oak case and a Bush Bakelite radio.
Among the glass in the sale is a red studio glass vase by renowned artist Samuel Herman which is dated 1972 and estimated to fetch between £60 and £80. Herman is described as 'one of the key figures in the history of studio glass' and founded the Glasshouse in London's Covent Garden in 1969, the first glass studio of its kind in the country. In 1974, he travelled to Adelaide at the request of the South Australian government to set up the glass area in the Jam Factory and he was also a consultant to Belgium's famous crystal factory, Val Saint Lambert.
The pictures and prints section features a number of images of Lincoln Cathedral including a watercolour of the cathedral from the Brayford Pool by M.J. Neale which is estimated to fetch between £200 and £300 and a limited edition print of the cathedral signed by Miles, circa 1980 and numbered 84 out of 150.
There is also an oil painting of Lincoln Cathedral viewed through a gap in a wall by local artist Roy Fisk which is estimated to fetch between £40 and £60. Fisk has written and illustrated books on the county including 'Reflecting Lincolnshire' and 'Lincolnshire Gleanings'.
A full catalogue is now available online at www.thosmawer.com For more information phone (01522) 524984.