Coin collectors and enthusiasts are in for a treat at the next collective sale at the Bourne Auction Rooms on November 23.
Offered for sale are around 80 lots of collectable coins including silver coins and sovereigns, which all together has been valued at around £10,000.
A highlight is Lot 4, a gold D'or Louis XV coin from the Geneva Mint dated 1726. The coin which weights 8.1g shows a royal portrait of Louis XV on the front. On the reverse is the French and Navarre coat of arms in two opals which earned the coin the nickname 'Louis aux lunettes' - Louis with glasses.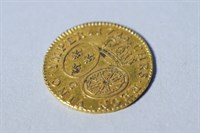 Alastair McPhie-Meiklejon, saleroom manager said: "Coins and stamps are doing very well at the Bourne Auction Rooms. Collectors are looking for coins that had a limited circulation so are rare, coins with minting errors or those with historical importance. We had around 200 collectable coins in our previous sale and they fetched good prices in the saleroom."
Elsewhere within the sale is Lot 30, an early Victorian silver cruet set. The set produced by Henry Wilkinson & Co and marked Sheffield 1848 has seven cut glass bottles, some with silver lids, and comes with a scroll footed tray. The set is very collectable, but could easily be used as it's a very pretty item in good condition. This lot is just one of a good selection of silver pieces to feature within the saleroom.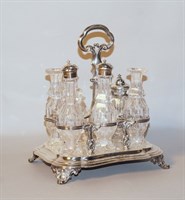 The full sale catalogue is available online. Viewing is open from 2-6pm on Friday, November 22 and from 8.30am on the day of the sale.