The full and part box of cigars, which had been specially made for Reichsmarshall Hermann Goring, were featured in the latest sale at Lincoln auctioneers Golding Young & Mawer on Wednesday, August 21. It sold for £1,300 to a commission buyer bidding against another in the room.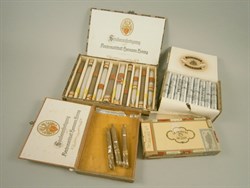 Auctioneer John Leatt said: "These cigars were specially made for the Fuhrer's deputy and, by the vendor's family repute, were removed from the cellars of his home in Brandenburg, near Berlin, after the end of the war. They were consigned for sale by a local private vendor who inherited them from a relative.
"These unusual items were in untouched condition and attracted collectors of cigars and Third Reich memorabilia."
Goring was groomed as Hitler's successor and lived a lavish lifestyle, often entertaining guests at his grand manor house in Schorfheide Forest in Brandenburg, near Berlin. He was often seen with a glass of wine and a cigar in his hand.
As Luftwaffe commander-in-chief, he was humiliated by the RAF's destruction of cities such as Cologne and Hamburg and in 1946, after being found guilty of war crimes at Nuremburg, he committed suicide with a cyanide capsule.
The cigars were held in boxes bearing 'Sondernfetigung Reichsmarshall Hermann Goring' which means 'Specially made for Reichmarshall Hermann Goring'. The boxes also featured Goring's initials, his personal coat of arms and the supplier's name, Gildemann Ltd, Cigar Manufacturers, Berlin-Hamburg.
Meanwhile, a collection of around 900 fishermen ornaments amassed by a former deputy Lord Lieutenant of Lincolnshire over 40 years sold for over £6,000.
Major Clixby Fitzwilliams' collection began when he received a fisherman ornament from Brazil from his youngest daughter Donna. After he died in 2009 aged 92, the collection was bequeathed to the Lincoln Cathedral Fabric Fund.
Mr Leatt added: "Bidding was fierce for the most sought-after lots, mainly from bidders over the Internet and some keen fishermen in the room. The highlight among all the ornaments was a Japanese ivory carved fisherman which made £440."
The collection included porcelain and pottery figures by Capo de Monte, Royal Doulton and Lladro, a signed bronze figure by Obel, spelter figures and some items of oriental carved ivory.
A resident of Healing, near Grimsby for over 60 years, Major Fitzwilliams was a watercress farmer who served as a magistrate for 26 years, a local councillor for over 30 years and was appointed deputy Lord lieutenant of Lincolnshire.
He founded the Everyman Club of Great Grimsby with the late Alec Redshaw in 1962 and was the chairman of the Jack Franklin Memorial Trust and the Grimsby and Cleethorpes Committee of the Lincoln Cathedral Preservation Council. He was also involved with Immingham Museum, the Healing Society and Healing Church.
In 1989 he was awarded an OBE for services to the community in Grimsby. Born in London in 1916, he served in the Army, RAF and the Navy during the Second World War.
He moved to Healing from his home in Greatford, near Stamford, after the war with his first wife Pauline. Sadly Pauline died in 1991 and he later married his second wife Norah in 1998.
Major Fitzwilliams' daughter Bronwyn Chapman, who has consigned the items to auction with her sister Donna Brocklebank, said: "My father couldn't resist a fisherman ornament. He travelled widely and every time he saw one on his travels, he had to have it. His house was full of shelving to display his collection.
"He would have been delighted the collection is now being sold to raise money for Lincoln Cathedral Fabric Fund."
The same sale also contained a collection of 20 pistols and other items of militaria consigned by a local vendor which sold for in excess of £3,000.
Among the antique furniture in the sale, a George III mahogany open bookcase, with an estimate of between £500 and £800, sold for £1,600 to a buyer from the Continent bidding over the telephone. A Victorian oak bookcase sold for £680 and a large bank of 53 pine drawers, which came from a deceased estate with connections to a printing business, sold for £800.
The silver and jewellery section of the sale included an 18 carat gold abstract brooch which sold for £640 and an amber necklace and bracelet which made £700. A silver George I tankard bearing the inscription 'Gift of Lady Brownlow' made £600.
Meanwhile, a 19th century French ormolu and bronze mantel clock sold for £1,350, against an £800 to £1,200 estimate, and a Louis Vuitton trunk made £1,050.