Wednesday 6th May should be marked in everyone's diaries as new cabinet day. Forget the election 24 hours later, the cabinet in question is of the highest quality, from good stock and unlike most things associated with the election it is honest and fresh!
So, what is it that we have? Let's start by giving it it's correct title; it is known as a bonheur du jour. It's Lot 1, 19thC satinwood and rosewood banded bonheur de jour French cabinet that is quite simply a triumph of the French style. It is richly set with satinwood, rosewood and gilt metal mounts, beautifully finished with Sèvres style plaques depicting French Court beauties – and like the Continental lovelies it has curves in all the right places and a cracking set of legs!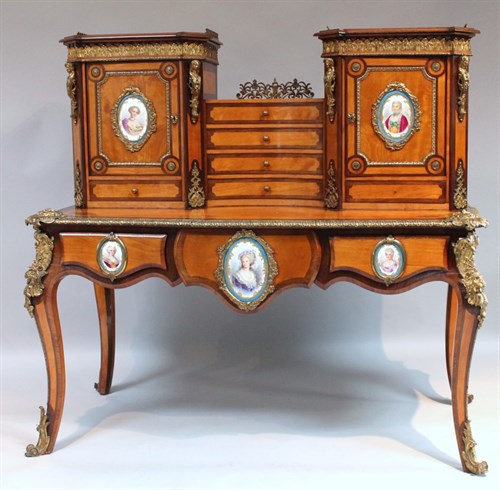 The work involved in producing this masterpiece is obvious; the locks by Hobbs are from the best locksmith, as are the hinges, the porcelain if not Sèvres then it is up there in terms of quality. It is often better to look at the places on a piece of furniture you cannot see to indicate quality; the back legs to this cabinet are serpentine and saber shaped, an unusual feature illustrating it was designed as a centrepiece to be viewed from all sides. Even the drawer linings are satinwood!
It was probably produced in the mid to late 19th Century, which indicates it was a piece presented at a major exhibition of the time; whether this was in Paris or England or elsewhere we may never know. We can be quite certain however that it was made to the highest order and must surely have stood in one of those great exhibition halls.
Its provenance is bullet proof too. We have the Stamford sale catalogue that it came from in 1868 – then it was lot 139 – purchased for the princely sum of £42. It has been in the same family since then, only reappearing in a valuation in 1978.
It is a useful, beautiful, high quality item. The fun really starts however with the added extras. It has to be said it has more secrets, drawers (and secret drawers) than a Hatton Garden safe deposit – there are endless extra openings, compartments, nooks and crannies.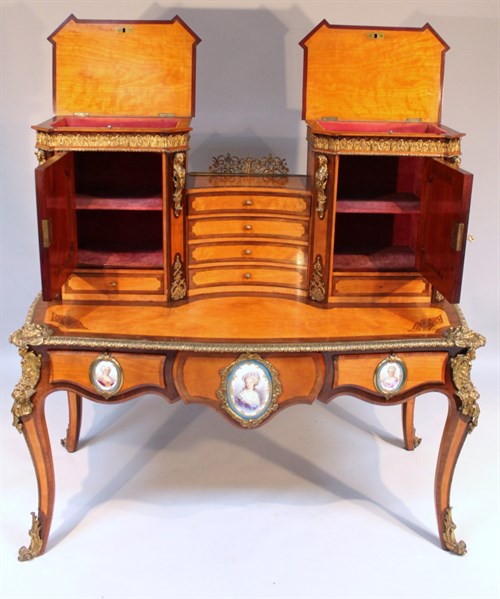 We have been careful so far not to mention a country of origin. At first glance it appears as French as the seagulls that followed Eric Cantona's trawler; it is set with Gallic plaques and has a signature on the reverse of a metal moulding linking it to perhaps Maison Millet. Maison Millet was the greatest of great Parisian factory producing objects in the late 19th Century and furnishing all of the above mentioned exhibitions.
The Bonheur du jour has English locks though, which is a puzzle and there is an almost identical version sold previously that was attributed to Holland & Sons, makers just as familiar with quality as Millet.
Who made it may be a mystery but the quality is certain and with an estimate of £3,000 to £5,000 this would be a brilliant investment for such a usable item.
The Grantham Collective Sale starts at 10am on Wednesday 6th May. The full sale catalogue will be available online soon.