An Early Victorian chaise longue (Lot 463) with exemplary pedigree will go under the hammer at The Grantham Auction Rooms of Golding Young & Mawer on Wednesday, 5th August 2015 from 10am.
"As one of only seven that originated from Badger Hall, near Bridgnorth Shropshire, the chaise longue is a rare treasure that doesn't come to market very often." Stated auctioneer Craig Bewick.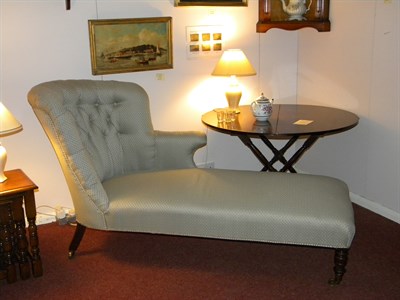 Throughout Victorian times, Badger Hall would have been a place of 'leisurely strolls' and 'boating parties'. Owned during this time by the descendants of iron and coal magnate Sir Isaac Hawkins Browne, the hall had seven main bedrooms for entertaining their guests, of which John Ruskin and his wife were known to have visited during the summer of 1850. There is a sound probability that the celebrated art patron and social philanthropist may have used the chaise during his visit.
During the Second World War Badger Hall fell into disrepair and the contents were sold at auction in 1945. The chaise longue was bought by John and Eve Collis and removed to Hay's Bank, an Elizabethan house just two miles from Badger Hall. Hay's Bank has a celebrated history of its own as it was the former home of PG Woodhouse and his parents at the end of the 19th century.
The chaise longue resided in the Collis's dining room for over 40 years until it was passed on to their daughter Marietta King (née Collis).
"When my parents met at a party, my father saw my mother sitting on a chaise and said 'Who is that girl with the wonderful deportment'." Said Marietta King. "I often felt a chaise had a special place in their hearts. Sadly I no longer have the space for this wonderful piece and have offered it up for auction."
The chaise longue can be viewed over 3 days at The Table Place, Ironstone Lane, Market Overton, Oakham in Rutland. Viewing is open between 11am and 4pm on Sunday 2nd August, 10am to 4pm on Monday 3rd and Tuesday 4th August and from 8.30am on Wednesday, 5th August.
The auction will take place from The Grantham Auction Rooms on Old Wharf Road, Grantham, Lincolnshire from 10am on Wednesday 5th August. Alternatively bidders can register to bid online at www.goldingyoung.com.