A collection of lithographs, books and other ephemera signed by French artists including Chagall, Miro and Braque made almost £14,000 in the Fine Art Sale at the Lincoln auction rooms.
The collection, which was amassed by Jaures Vasini, a magazinier at the Gallerie Maeght in Paris from the late 1960s until 1984, attracted worldwide interest when it went under the hammer at Lincolnshire auctioneers Golding Young & Mawer on Wednesday, February 27.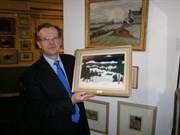 Auctioneer William Gregory said: "The level of interest in this collection was unprecedented with buyers competing over the Internet and the telephones for the majority of pieces."
"What made the collection unique was its excellent provenance as it was being sold by the daughter of the man who hung exhibitions by the artists in Paris."



The 13 lots made a total of £13,500 with two lots by Joan Miro (1893-1983) launching the collection and selling to bidders over the Internet.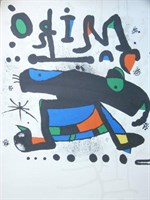 The first lot entitled 'Affiche pour l'exposition Miro Seibu, Museum Art, Tokyo' was a signed limited edition coloured print which sold for £900 against an estimate of between £400 and £600; the next lot was a coloured drawing, signed 'Pour Jaures Vasini' on the inside cover of the 1970 catalogue 'Derriere le mirror' and two 'La Gallerie Maeght' exhibition catalogues, which sold to an Internet buyer for £4,000.
Meanwhile, three artist signed lithographic prints by Marc Chagall (1887-1985) also made good prices. 'Le posson bleu' sold to a buyer in the room for £1,400 against a £500 to £800 estimate, whilst 'Maternite au Centaurc' sold to a telephone bidder for £950, against an estimate of £500 to £800. 'Couple sur fond noir' had an estimate of between £300 and £500 and sold to a buyer on the telephone for £650.
Several 'Derriere le Miroir' catalogues dated 1950, 1954 and 1979 sold to an American bidder on the Internet for £1,800.
Jaures Vasini was a magazinier at the Gallerie Maeght in Paris from the late 1960s until 1984. During this time he hung paintings for the exhibitions of artists including Chagall, Miro and Braque and was given signed lithographs, books and other ephemera by the artists.
Mr Vasini's daughter Martine Knight from Nottingham inherited the items from her father and had decided to sell them as she and her husband were moving to France.
Mrs Knight said: "I remember my father taking me to the gallery and showing me all the original artwork that was kept in the store room and meeting the senior director and the secretary.
During his time, my father came into contact with all the artists who exhibited their art. To show their appreciation of my father's work they would often give him lithographs and books which they would sign."
Over 200 buyers registered to bid online competed with others on the telephones and in the room during the evening event which was described as a 'huge success' by auctioneers.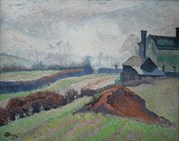 The first lot in the sale, a signed oil on canvas by Lucien Pissarro (1863-1944) entitled 'Cottage by the Road, Duton Hill' sold for £13,500 including commission to a London gallery. The painting, which was dated 1915, had been purchased by the vendor from The James Collection at Browse and Darby Ltd in 1978.
The following lot, a signed ink and watercolour entitled 'Welsh Mountain' by the 20th century British artist Graham Vivian Sutherland (1903-1980), sold for £2,200, well above its £800 to £1,200 estimate. The painting, dated 1939, was bought over the Internet by a collector.
Meanwhile, two signed oil on paper paintings by the French artist Adolphe Valette (1876-1942) sold to a Lincolnshire collector against fierce competition from bidders in the North West of England. 'Study of a cow' sold for £1,500 and 'Study of two cows' made £1,800 - both paintings had estimates of between £1,200 and £1,400.
A series of original artist coloured proof drawings by the cartoonist Carl Ronald Giles OBE (1916-1995) were heavily contested in the room and on the Internet and sold for a total of £10,160. The highest price paid was £2,000 for an unframed ink and watercolour 1979 annual cover featuring a bucking bull, whilst an original cartoon drawing titled 'Introduction of the MOT', dated September 1960, sold for £1,200.
Two paintings discovered in the attic of a property in South Lincolnshire during a house clearance were bought over the Internet for over £2,200. The signed oil on canvas 'Orange Soliloquy' by Sohan Qadri (1932-2011) sold for £1,800, and a 20th century Indian School watercolour of five figures, which was indistinctly signed and dated 1970, sold for £460.
A 19th century Continental School half-length portrait of an Eastern Dancer had been taken to the filming of a TV auction programme where it was valued at £50 to £80 but not chosen for the programme. The vendors immediately decided to consign the picture into Golding Young & Mawer's Fine Art auction where, after a fierce battle by Internet buyers, they were duly rewarded with a top bid of £950.
Meanwhile, two mixed media artworks by Linda Sutton (b. 1947), signed and dated 1991, sold for £900 in total. 'Four witches under the harvest moon' sold for £440 against an estimate of £200 to £400, and 'Miranda and Caliban' sold for £460 against a £200 to £400 estimate.
Two paintings by John Trickett (b. 1952) were keenly contested and bought by two collectors from Lincolnshire. The signed oil on canvas of a Spaniel made £620 against an estimate of between £250 and £450, and the signed oil on board titled 'Woodland landscape' made £300 against a £150 to £250 estimate.
Two oil on board paintings of Victorian street scenes by Peter Bradshaw (b. 1931) made good prices in the sale. The first featured a street scene with horse and cart and sold for £180 against a £50 to £80 estimate and the second featured a horse, cart and trams and sold for £260 against an £80 to £120 estimate.
Eight paintings by the Grimsby artist Vincent Haddesley (1934-2010) sold to a local buyer in the room for £1,565 in total. Among the artwork, the 1969 oil on canvas 'Home by Moonlight' sold for £720 against an estimate of between £400 and £600.
The studio contents of the artist Wilhelmina Burdett-Somers from Louth, Lincolnshire, sold for £680. The collection included a signed oil on copper of a Labrador titled 'True Friend' which made £95.