Named after perhaps one of the greatest military minds of the 19th Century, - Field Marshall Arthur Wellesely (1769-1852) - the chest is one of several pieces of furniture designed to be broken down, packed up and carried as soldiers marched on campaign. Hence the collective name for this type of furniture - campaign furniture.
Lot 710, a Victorian mahogany Wellington chest, is being offered for sale at our Grantham collective sale. With a moulded upper section and a carved back raised above six graduated drawers, this is a beautiful example of exemplary furniture making from the era.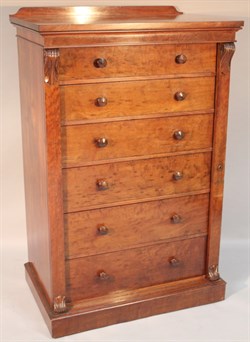 Keep a look out for how it does when it goes up for auction!