The sale on 1st July at The Grantham Auction Rooms proves that the summer months are anything but quiet in the antiques calendar. Gone are the days of everyone shutting up shop and enjoying the sunshine; nowadays our Auction Rooms have never been so busy.
A 1,000 plus lots in this Grantham sale highlight the items that are still around. In particular, there are two collections – one in this sale and one coming up in the future – that prove buyers should really strike whilst the iron is hot.
A double consignment of silver flatware should really be purchased blind – the scrap value is nowhere near the £25 per ounce silver was trading at five years ago – if you have the money in the bank, come and buy. The fickleness of money can be summed up in one word - Greece! The dangers of having money in the bank are constant; interest rates are non-existent and one day you may wake up and it's gone!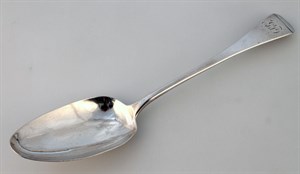 Lot 17: A George III Silver Tablespoon - 1 1/2 oz
Silver is the answer; £7 per ounce goes to £10 over the summer (it can't really fall much more). Therefore buy 300 ounces at £2100, wait three months and it's worth £3,000. Without donning a balaclava and brandishing a shotgun you show me how else you could get dividends like this!
Even if the price per ounce falls, you have the item and one day it will be worth more than you paid for it. Tricks of the trade don't get much easier.
This is without taking the beauty of the items into consideration; Georgian spoons, knives and forks here, alongside candlesticks, sauce boats and porringers. We have around 30 lots of flatware from 1750 to 1950; buy it, keep it, sell it, smile, repeat!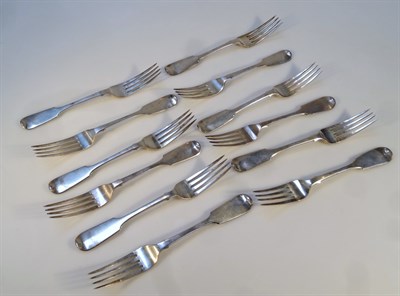 Lot 722: A set of twelve Victorian silver table forks - 15oz
If that's a foolproof method of financial gain, the slow burning one is in high quality furniture. Held back for a larger sale later in the year is an early 19th Century mahogany breakfront bookcase from a most prominent local country house. It breathes class. It does admittedly go against the grain as it is large but its quality is undoubted. Acanthus leaf topped columns, original glass, wonderful colour and the shaped front make it a special piece. The tridarn, or court cupboard, from the same premises also marches it in terms of quality. A handcarved date from the late 17th Century sets the scene and although parts of it are later, one this good hasn't turned up in years. The advice is that if you can and have the room, buy – one will never be as cheap again.
The sale is on Wednesday, 1st July at 10am. Viewing is Tuesday 30th June from 10am until 4pm and from 8.30am on the morning of the sale.
We are always here to advise buyers or sellers – please do not hesitate to ask for advice.