The first auction of the year at Golding Young & Mawer in Lincoln promises to bring the post Christmas sparkle back into your life. With over 300 lots of single items or trays of costume jewellery included in the Collective Sale on Wednesday, the 17th of January there really is something for everyone! Whether you like period pieces, modern brooches or Scandinavian enamel jewellery the possibilities are endless.
A particular item of note is lot 37, as shown below. It is a silver and enamel Norwegian drop brooch, set with blue enamel in the Art Nouveau style, with marks to back for Marius Hammer of Norway.This is a particularly fine piece of Norwegian silver enamel jewellery, marked with maker and location. Enamel jewellery first became popular in the early 20thC and throughout the Art Deco and Art Nouveau period it became more and more common. This particular piece is of good quality with an array of blue enamel and stylish drop design.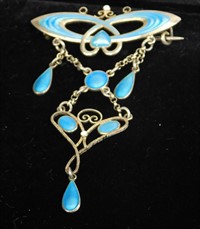 There is a variety of good quality Victorian jewellery including lots 39, 42, 48, and 56. The use of moonstones in jewellery was particularly popular in the Victorian times as the stones' properties give an optical illusion. They were most commonly found on necklaces such as the ones below or in bracelets and earrings. The use of memorial panels on brooches was also very common within the Victorian era and can be seen on the examples within lots 39 & 42.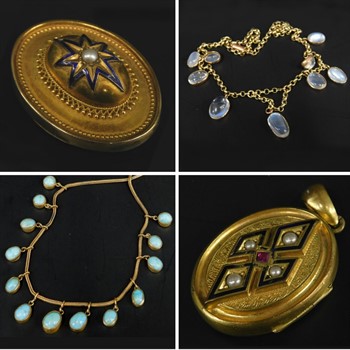 The rest of the sale also includes pieces fit to grace most homes. Those who like pieces of classic 20th century design there is a chrome plated and hide upholstered chaise longue designed by Le Corbusier, Pierre Jeanerette and Charlotte Perriand. The LC4 was originally designed in 1928 and has been popular ever since due to its iconic shape and above all amazing comfort.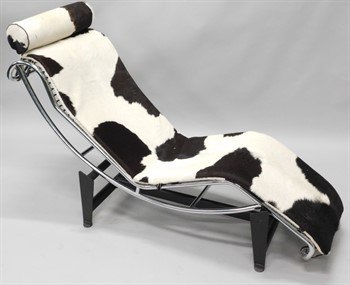 For those who prefer the country farmhouse or cottage look there is a collection of original T.G Green Cornishware. The factory was originally started by a Lincolnshire man, Thomas Goodwin Green of Boston in 1864, but it wasn't until the factory moved to Church Gresley in Derbyshire that it became a household name. The typically blue and white striped pieces were made by the firm from the 1920s to the late 1990s when the factory closed. It was soon revived by the new owners of the name and can still be bought today in many china shops.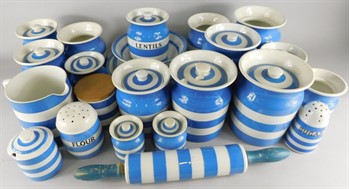 The sale of nearly 1400 lots will also include sections of silver, coins and medals, pictures and books, ceramics and glass, as well as an interesting mix of bygones, to include pieces for furniture restorers such as tools and handles etc.
The Collective Sale is at The Lincoln Auction Rooms on Wednesday, 17th January from 10am. Viewing for the sale is on Tuesday 16th January from 10am until 4pm, and from 8.30am on saleday until the sale commences.