A fixture of Golding Young's Bourne sale calendar is the ever popular quarterly automotive sale, in the former home of BRM, held alongside antiques and collectables. In their sale on the 10th February were included a number of lots from the estate of Lady Rozelle Raynes, late of Thoresby Park, Nottinghamshire. Most exciting was what, on first glance, was a rather unassuming trunk. On closer inspection the cabin trunk, covered with stickers from voyages of old, was covered in a chequer board fabric emblazoned with the iconic letters LV, for Louis Vuitton. Opening the trunk revealed three maker's labels, one dated 1885, and its original fitted trays. Interest was widespread and bidding was intense, with five prospective buyers on the telephones alone, and it sold after much competition for a more than double top estimate price of £3200.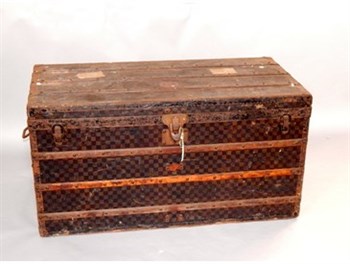 Other more modest lots of interest included a silver pepper pot in the form of a chauffeur, hallmarked for Chester 1906, which achieved £460, and a Michelin faux tortoiseshell easel table clock that realised £300. Also of interest, not least because of the local connections, was a collection of signed photographs and other personal ephemera from former BRM employee Miss Joy Dean which sold at the top estimate of £300. Top price of the day's sale went, not unsurprisingly, on the single car on offer; a top of the range Porsche Cayenne. With a 58 number plate and just over 50,000 recorded miles on the clock, it sold on estimate for £15,000.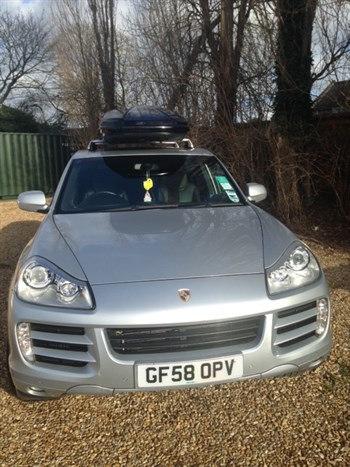 The mantra that quality, not quantity, will always win out was very much in evidence amongst the large offering of Georgian and later furniture. Leading the field were a harlequin set of nine yew and elm Windsor chairs. Harlequin, by virtue of their being two sets of four chairs with one further they, nevertheless, looked great with deep and warm patina, in addition to having attractive proportions. Consequently, intense bidding pushed the final hammer price well beyond estimate to achieve £3200. Also selling well was a large Victorian mahogany wind out dining table, with no fewer than three and a half additional leaves, the spares being contained in an attractive pillared storage unit, which realised £1300. Snapping close at its heels in terms of price at £1200, was an Art Deco bow fronted bedroom suite in walnut and faux metal trim. This stylish and high end suite would grace a London or Paris apartment equally well and, particularly striking was the dressing table with a pair of curved dog tooth edged glass shelves.
For those with less deep pockets, but a great sense of style, was a circular Art Deco walnut bookcase with burr maple book slides which sold for £360, and a 1960's teak sideboard with two pairs of chequer board inlaid bifold doors, very much the feature of the moment, which sold for £200.
Ceramics included some attractive Georgian coffee cans, early Continental pottery, and the usual array of modern collectables such as Poole and Beswick. The most popular lot was an Edwardian Royal Doulton dinner service decorated with a restrained burnished gilt foliate band. Of high quality, this service boasted a soup tureen and no fewer than seven meat platters, as well as twelve place settings. Despite the impossibility of this service ever seeing the benefit of a microwave oven or a dishwasher it enthused buyers by the very virtue of its quality and sold for a more than double top estimate price of £260.
Two good private consignments provided the impetus for a strong silver sale. Continuing the Art Deco theme was a tazze hallmarked for 1939 with an unusual triple ring support, by Wakely & Walker which sold for £300, whilst the same price secured four silver sweetmeat baskets, from the more refined late Victorian period, embossed with flowers and scrolls by Horace Woodward & Co. Another interesting lot, reflecting the continuing appeal of provincial silver was a George III silver tankard of plain baluster form with initial engraving. Nothing out of the ordinary except that it was by John Robertson and hallmarked for Newcastle, an assay office which opened in 1702 and closed in 1884, this tankard for 1798 sold at £260. Top price however, was that paid for a pair of Victorian entree dishes by the Goldsmith's Alliance of London. Not only were these unusual, being in silver and a pair, but they also retained their original inner dishes and liners. Consequently, they made almost half as much again as their silver weight would suggest, selling at £1200.
Jewellery was dominated by a diamond necklace and a group of high end watches. With regard to the former the contemporary necklace was set with a large carat weight of diamonds in an 18ct white gold setting and swept down to a trembleuse knot. This eye catching piece sold on reserve for £3800. Top price of £4500 was paid for a gentleman's 18ct gold Rolex Oyster perpetual date dial wristwatch with a gold dial and a chunky 'president' bracelet. Other watches doing well included a somewhat more understated lady's 18ct gold watch by Patek Philippe which achieved an above top estimate price of £1600, and a Cartier 1847 Cougar chronograph wristwatch which realised a more modest £850.
Whilst there is often a greater degree of predictability in the more traditional antiques fields, the broad church of collectables invariably throws up some pleasant surprises at auction. Two pairs of Leica binoculars for instance, sold way beyond expectation at £240 and £260 respectively, whilst a capstan wheel made £210, and a mixed lot of corkscrews, which included a rare Victorian pocket version in a screw barrel casing, realised £220. A very attractive bronze of a springer spaniel guarding a shot mallard by the French animalier Antoine Louis Barye, appealed to the countryside fraternity, selling at a top estimate price of £360. The biggest surprise of the sale, however, was reserved for a 19th Century road measurer. Made by the London instrument maker Heller, it was expected to make somewhere in the region of £200-300. Instead it sold well above expectation at £900, and is possibly an auction record.
But then, let's face it, what's the point of having a Porsche Cayenne or a Louis Vuitton cabin trunk if you haven't got the benefit of decent roads to sustain them!?