The only sale to attend during the first week of January is at The Grantham Auction Rooms on Wednesday, 6th January – it is packed with fine antique items that have been flowing through the door like a seasonal snowdrift.
There will be plenty of people fed up being cooped up in the house; forget the stuffy Christmas atmosphere, stall the family argument and join us in Grantham!
With the throng of jewellery, silver and decorative items and fine furniture amongst the several hundred lots already catalogued at the time of writing, which I hasten to add is many days before Donner and Blitzen are tacked up by the big man in the white beard, it is a slight surprise that three books are getting this valuer more excited than binge watching Nigella's Christmas Treats on the TV.
Books, you may ask, really? The first is a triumph of Victorian design, coupled with a link to one of the big poetic names of the early 19th Century and the second is a pair of tribute books remembering the bravery of RAF Bomber Command during World War II.
Lot 485 is a hand decorated, hand coloured poetical book illustrating the poem 'Laura' by Herbert Knowles. Knowles was a great 19th Century writer, a contemporary of Byron and a friend of Southey; his work 'Stanzas Written In Richmond Churchyard' remains as well known now as at the time of writing. Lot 485 highlights one of the lesser known, larger titles from a poet whose death at 19 from consumption was not only a tragedy but far too early. The book was created as a tribute by his niece, Emma Dashwood.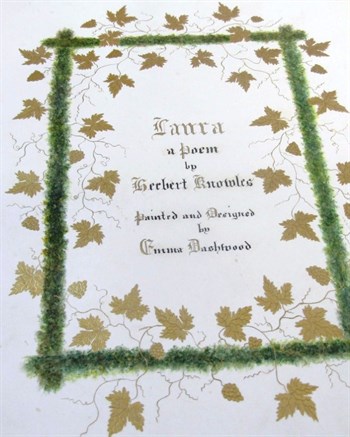 Not judging a book by its cover is often sound advice and in this case the modest part gilt red leather outer board gives nothing away as to its contents.
Beautifully gilt stencilled, hand coloured pages – every turn reveals a magnificent plate bursting with flowers, foliage, figures and scrolls and the decoration is as vivid today as the day it was made.
Value here is a tricky subject; the quality is high, the item is rare, and it has the associated names of Knowles and Dashwood, of which there were few higher in either professions of writer and illustrator. Although it is a specialist subject matter, the low hundred pound valuation must surely entice?
The other two books mentioned earlier also have a share in quality and rarity – and are just as poignant. Titled 'So Many' and 'So Few', they illustrate the history of RAF Bomber Command 1939-1945. The books themselves contain all of the silhouette caricatures of the pilots, each with paper covers, each signed. The leather bound books make up the set of two and are decorated with a raised set of RAF wings to one and the face of a pilot to the other; each is beautifully kept in a slip case and are numbered 362 of 401 copies produced.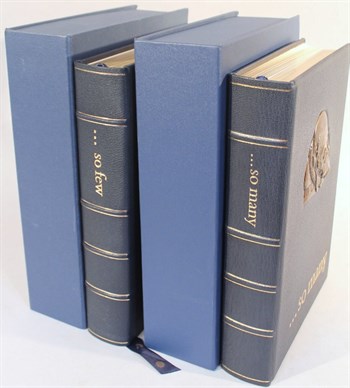 They are an apt remembrance; an immense tribute to those brave few. The books are in excellent condition, almost untouched and to find the pair is extremely pleasing. In terms of value – an insult really in reflection of what these books illustrate – it is difficult. As with the poem, so few turn up. All that should be said is that just one of the two copies sold in London around five years ago for £1,000 – so to have two is very good indeed!
The Collective Sale is a brilliant opportunity to dust away those winter cobwebs and spend all that Christmas money on fine antiques – there really is something for everyone.
The Collective Auction will be held on Wednesday, 6th January 2016 at 10am. Viewing is on Tuesday, 5th January from 10am to 4pm and on the morning of the sale from 8.30am.
All that remains to be said is we wish you all a Happy New Year and we look forward to seeing you throughout 2016.