The firm of Beswick was established in Longton, Stoke on Trent in 1894 by James Wright Beswick. In its early days it was mainly known as a producer of dinner and teawares. It was not until the 1930's that it started to produce the range of animals synonymous with the pottery today. In 1939 they employed Arthur Gredington as the chief modeller and this proved to be a master stroke. He not only produced a range of ceramic animals second to none at the time, but in particular focused on horses and champion breeds. Over 130 different equine models were produced, making it incredibly popular particularly with the farming community but also with the general public.
Golding Young & Mawer will be offering one of the largest collections of not only Beswick figures but also Wade and Royal Doulton that they have handled in some years. The sale on Wednesday 15th of February at The Lincoln Auction Rooms will include a Canadian Mountie figure on horseback, a horse and jockey figure in walking pose and a hunting group, with prices expected to start at £10 to upwards of £200 for the rarer pieces.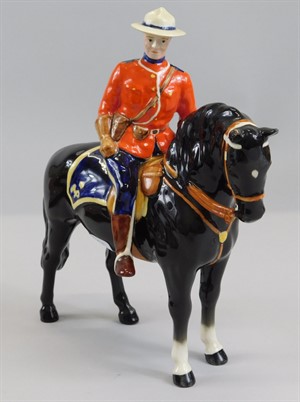 After a highly successful sale of football programmes and ephemera at The Lincoln Auction Rooms in January, the firm is delighted to have been instructed by the executors to sell the residual parts of another local collection. Including not only pre 1960's Lincoln City programmes there is also a number of other teams represented such as Notts County, Nottingham Forest and Manchester United. Collected over a number of decades there is also a huge number of Scottish, non-league and international programmes, with perhaps the most iconic pieces being for the 1966 World Cup Final and tournament overall.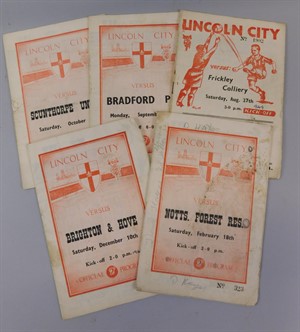 The auction of over 1,000 lots also includes a large pair of Doulton Lambeth vases by Hannah Barlow (1857-1916). Decorated with her typical sgrafitto horses they are expected to make in excess of £500 in the sale. An unusual and very rare Baccarat adjustable table lamp designed by Jacques Adnet (1900-1984) will also go under the hammer on Wednesday and it is hoped it will cause quite a stir with collectors and interior designers worldwide.
The main highlight of the furniture section of the sale is two pieces from Thoresby Hall in Nottinghamshire. Purchased by Charles Pierrepont, the 3rd Earl of Manvers, around 1870 from the makers W. Bertram and Son in Soho London, the satin birch clothes press and dressing table are both expected to make in excess of £500 in the auction.
The Collective Sale will be held at The Lincoln Auction Rooms on Wednesday 15th February from 10am. Viewing is on Tuesday 14th February from 10am until 4pm and from 8.30am on saleday.