A stained glass window panel , which appeared on the Antiques Roadshow in November 2003, will come up for auction at the Grantham Sale Room of Golding Young & Mawer on September 4 and 5.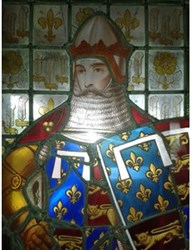 Lot 2 the window panel, by the highly respected designer Henry Hughes, depicts Edward 'The Black Prince' in a full length pose. It was inherited by the current owner, and the line of descent can be traced back to 1945 when it was salvaged from the Old Rectory at Elton, in Northamptonshire.
Signed and dated, the panel was produced when Henry Hughes was a principal with the London firm of Ward and Hughes in 1870. It is expected to fetch in the region of £2,000.
Ward and Hughes is a very well known firm to admirers of Victorian stained glass. They produced a tremendous amount of work in England in the middle of the 19th century and this particular panel is thought to have been produced as an exhibition piece.
Richard Plant, consultant auctioneer and valuer at the Grantham sale room, said: "This is real a family favourite but our client is having to sell it because she is moving house.
"It really is a stunning piece of work and would be of interest to collectors of decorative art.
" I would love to see it installed into a period home of a private buyer, someone who has the perfect place to show it in all its glory.
"It so beautiful and I hope whoever buys it really falls in love with it."