An 18 carat gold, diamond, sapphire and emerald bee shaped pendant brooch heads the next Collective Auction at The Grantham Saleroom on Wednesday 5th July.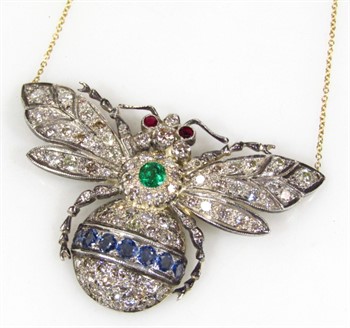 Oozing quality it mirrors the standard of the sale as a whole; it quite simply looks amazing. Packed with class and symbolism, it currently acts as a pendant but could easily be altered into a brooch in its own right. It is one of a small number of objects seen in provincial salerooms whose quality is instantly recognized. It's big, brash and sparkly, in your face, the centre of attention and although of some age looks modern and trendy.
The jewellery section as a whole is fabulous and plentiful, with many items from private sources and here for sale, with the opal ring (lot 23) an indication of the quality available.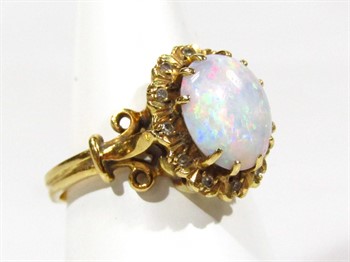 There are around fifty other rings, a solid selection of silver and a good amount of costume jewellery in large quantity spread throughout the sale. It really is a vast jewellery section with plenty of shiny things - sunglasses are definitely advised!
For the more academic collector, the pair of crested waiters found in lot 16 may appeal; heavy, old and a matching, these will surely bring the serious buyers out in force, dating as they are to the mid 18th Century.

Large collections of Crown Derby and Carltonware Bleu Royale can be found elsewhere. All from private sources, all fresh to the market and all keenly sought in this day and age, the Derby paperweights mainly have stoppers and include some of the rarer pieces and Collector's Guild examples such as The Donkey illustrated.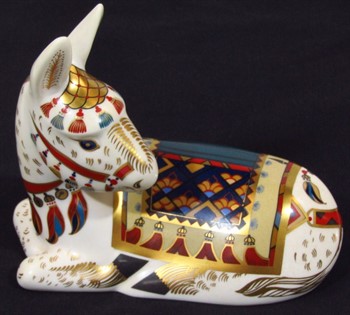 Georgian furniture packs the room, from bureaus to a kneehole desk as good in colour as you will see. Later objects are plentiful and there is the usual range of items from the 18th Century to the current day.
Paintings are small in number but high in quality and there are the usual lots of household china, glass and furniture, from 1970s G-Plan teak, a light elm Ercol trolley, a modern G-Plan black leather suite, to electrical goods, postcards, stamps, medals and coins, we even have an as new Dyson Roller vacuum cleaner: quantity, variation and quality are again here in droves.
The sale is on Wednesday 5th July, at The Grantham Auction Rooms at 10am, with viewing Tuesday 4th July from 10am – 4pm and on sale day 8:30am – 10am.