A collection of auction catalogues detailing the sale of land and property in Lincolnshire around 100 years ago will be staying in the county after being sold at auction.
The fascinating ephemera, which included the sale of Nettleham Hall and land in the Skegness, Mablethorpe and Boston areas, fetched £120 at the sale at auctioneers Thomas Mawer and Son of Portland Street, Lincoln on Saturday (April 10).
The winning bidder was Lincolnshire Archives which will now be including some of the catalogues in a forthcoming exhibition on Lincolnshire's Stately Homes which will be held on Saturday, June 12 in the lecture room on St Rumbold Street, Lincoln.
Auctioneer John Leatt said: "We are delighted Lincolnshire Archives bought the auction catalogues and that they will now be staying in the county. They are a fascinating record of land and property auctions held around 100 years ago and some contained interesting photographs, maps and illustrations."
Collections officer for Lincolnshire Archives, Adrian Wilkinson said: "We decided to bid on the auction catalogues because there were some unusual particulars among the lot which we haven't already got in our collection. In particular, we were keen to have the catalogue for the sale of farm buildings and the pub at West Butterwick.
"The catalogues will now go into the general collection, but some will be featured in our forthcoming exhibition in June."
Elsewhere in the sale, a set of eight Royal Doulton figures of ladies based on designs by Kate Greenaway fetched £380, and a rare medium-size double sided character jug of Mephistopheles, the devil to whom Faust sold his soul, fetched £120.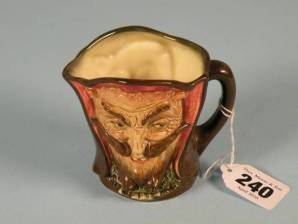 An early 19th century 30-piece miniature dolls' tea service, printed with stars and flowers, made a hammer price of £90, whilst another dolls' house tea service, which featured realistic looking food on the plates, fetched £170. Meanwhile, a Royal Worcester Palissy dinner and tea service from the 'Game Series' fetched £320.
In the bygones section, the most unusual item is an early 20th century instrument with teats for suckling piglets or lambs called 'The Improved Arnold Foster Mother', fetched £18.
An early 20th century self-propelling, three-wheeled invalid carriage made by Hough of Southport made £140, over its £50 and £100 estimate, and a butcher's bike made £20.
The bygones section also contained a collection of firefighting related items, including hose fittings, a mechanical foam generator, vintage fire extinguishers, hats and gauges, which made a total of £266.
Among the jewellery, two gold wedding bands and a sapphire and diamond dress ring, estimated to fetch between £100 and £200, made £300, and a collection of costume jewellery, including two beadwork belts and some items of jet, fetched £460.
In the furniture section, an oak roll top desk made £230 and a set of five Victorian slatback kitchen chairs, estimated to fetch £40 to £60, fetched £280.
The next sale will be an auction of specialist fine art held on Tuesday, April 27th. A full catalogue will be available online a week before the sale at www.thosmawer.com For more information phone (01522) 524984.