The Asian Art sale at The Grantham Auction Rooms on the 11th June has a great selection of early Chinese and Japanese porcelain, ivories including a large quantity of various figures and netsukes, pictures, silks and works of art.
A highlight in the forthcoming sale is lot 82, a Meiji period Japanese Shodhana cabinet dating from the late 19th or early 20th century. It is of excellent quality and has taken a great many man hours to carve; it would be virtually impossible to find someone to create such an item now without the use of machinery. The panels are finished in velvet and bone; they slide open to reveal more shelves and the interior compliments perfectly the ebonised carcass.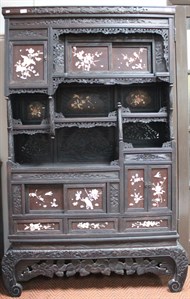 Saleroom manager Andrew Doubleday said: "The usability is undeniable. What we have ticks all the boxes; it takes up little room, it is finished to a high standard and would create a talking point in any modern home.
It juxtaposes perfectly with the modern style of furnishing and unlike a lot of display items now will literally fit through the front door! Such furniture is seldom seen and it represents an amazing opportunity to own such an interesting piece of cabinet furniture."
The sale features a wide variety of items to suit any taste from objects centuries old to those from the present day.
The Asian Art Sale will be held at The Grantham Auction Rooms on Wednesday June 11th at 10am. Viewing is Tuesday June 10th 10am - 4pm and on the day of the sale from 8:30am. The full sale catalogue can be viewed online.