A new feature of our thrice yearly Asian Art sale at The Grantham Auction Rooms - the next of which is on December 3rd - is the starting time of 7pm. The other tweak is the addition of African and tribal art – of which there are a good number of items. The overall variety and quality of the items offered however, remains as high as always.
The diversity of lots is aptly illustrated in the first few objects; a polished red amber necklace follows a Hong Kong white metal teapot and a number of 18th century export items. There are ivories from China and Japan encompassing the great Tokyo Schools and for those without the odd several thousand pounds to invest, smaller examples begin at as little as £40-£60.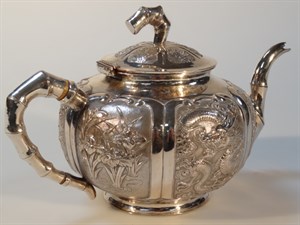 A particularly fine export section includes an 18th century ale tankard of good quality and in excellent condition. It is often surprising that numerous examples of 200 year old plus items are generally free from major damage.
There is Satsuma and Imari from Japan, a plethora of Meiji period works in porcelain jewellery and furniture, complemented by a particularly fine Chinese section with good pieces of porcelain, ivory and metalwork. African face masks, tribal hangings and figure groups also make up large parts of the earlier lots.
The sale overall oozes quality, individuality and presents items not only fresh to the market but in good condition. The Chinese period vases - lot 3003 - highlight what is being offered; rare, good quality and complete. But whether it be these vases, themselves beautifully decorated and of the highest quality and which will surely achieve the premium figure they deserve, or more modest pieces from porcelain to pictures, brush pots, netsukes, hardwood plant stands and other furniture or metalware there is genuinely a lot to buy, at this most diverse of sales.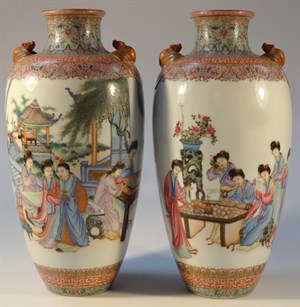 The sale is Wednesday 3rd December at 7pm. Viewing Tuesday 2nd December 10am – 4pm and on sale day 8.30am to 10am and from 6pm onwards.