One hundred and four works of art, by sixty nine artists exhibited at this year's Lincolnshire Artists Society showcase exhibition, held at the Stableyard Galleries, Doddington Hall, Lincoln.
The exhibition which runs until the 29th May has been superbly curated and complements the gallery brilliantly.
The opening night was very well attended with the evening hosted by Ann Wood, Chair of the Society and formally opened by Dr Samantha Stein and Milica Rajic.  Both Sam and Mili are professional archaeologists.  Sam is also a TV producer who has recently worked on the BBC's popular art programme Fake or Fortune. 
Golding Young & Mawer are privileged to be co-sponsors of the event; also providing the Golding Young Award for a landscape painting.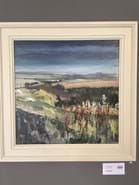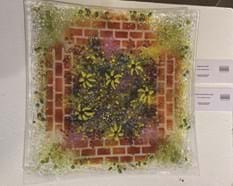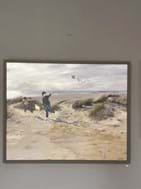 In choosing the winner I wanted to combine artistic ability with a more personal connection.
My eye was first drawn to Liz Graydon's acrylic of St Andrew's Fife West Sands, but alas was a seascape; as was Lesley Holliday's childhood reflection Kites.  Phil Bowman, The Kimono was a respectful nod to past president, Peter Moss.
The award went to Denise Hawthorne for her atmospheric work titled Lincolnshire Wolds.
Lynn Baker's kiln formed glass work titled Walled Gardens, Gumby Hall, won both the Maggie Den and Charles & Sally Pinchbeck awards.
The Hayward/Oyler Award was won by Sarah Watson for her oil paper work, titled Highland Bracken.
As the exhibition is a selling one, it was good to see the small red stickers popping up. 
More information about the Society can be found online at www.lincolshireartistssociety.com and also in the Edward Mayor book Lincolnshire Artists – One Hundred Years 1906-2006.