The Grantham Auction Room's next Collective Sale – to be held on 1st April – will contain no joke lots. This 900 lot feast is serious in terms of quality.
There is no low point here, no area where this sale can meander through the motions. From lot 1 starting at 10am on the 1st through to the last lot at the end of the day we expect a thronging, buzzing saleroom.
What makes us so confident? We have had instructions from several good local houses, crammed with fresh to the market items of exceptional standard.
Coming back to the jewels mentioned in our title, let us look at three items to be sold in this sale; a clock, a key and a bench. The quality of all three items is superb and the key and the clock also have that other great point that they are important local items.
The clock is, quite frankly, as good as we have seen. It is a mid 18th Century caddy topped bracket clock, with a double fuse action and verge escapement, a three train bell striking movement and also all the features of a good item; date, strike/silent feature, chime or non-chime on the quarters – even chiming once at quarter past, twice at half past and three times at quarter to the hour. It is beautifully finished in an ebonised case with etched backplate and it is, quite simply, an excellent piece of craftsmanship, whether looking at it 250 years ago or today.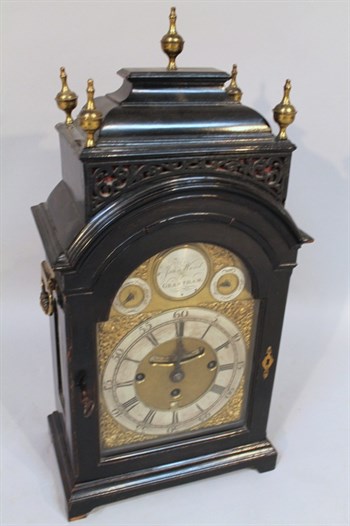 The romance of this piece is even more mouthwatering; it is fresh to the market as it has been in the same family for a generation, briefly mentioned in a valuation report in 1978 and has not seen the open market for at least sixty years. However, it is the name 'John Wood' on the silver and brass dial that makes it perfect. Such a modest name does not perhaps befit a Grantham master clockmaker. Seldom seen, we are privileged to offer this clock by the very cream of local craftsmen. If you are reading this and have better we would be only too happy to see it!
On to the key; its design of entwined silver makes it special in its own right. Glancing at it brings all kinds of ideas as to what it could possibly unlock – a mansion? The Grantham Auction Rooms? Perhaps even Pandora's box itself?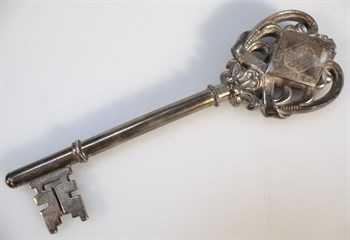 All distinct possibilities but the engraving on the side of the key reads, Dysart Park Opened July 28th 1927, Ald R Brittain JP, Mayor. It is the Mayoral key – not quite the key to the city but the key that opened the park in 1927. It is a true museum piece and an important historical item in this area. An item like this seldom comes up and is of interest to many people; local historians, silver buyers, key collector and people who simply strike to own good quality pieces. It is even in a fitted case.
Thirdly, we turn to the bench. It is a Victorian cast iron bench with wooden slats. Although it may not sound like an achievement in antique finery, you may change your view on closer inspection. It has a beautifully designed and entwined natural back with flowerheads, scrolls and leafwork raised above further reeds and scrolls – the only thing lacking from a direct attribution to Coalbrookdale is the name stamped on the back.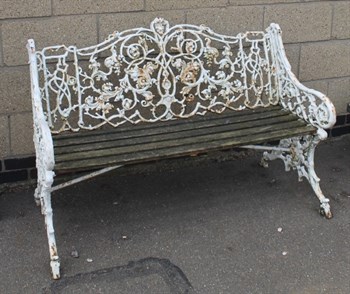 It has however, all the visual hallmarks of class and who needs a name for this? The quality is hallmarked throughout the item itself. It is, quite simply, a good, old fashioned but eloquent antique; one which holds its value and has steadily risen whilst so many other pieces have fallen. It is also a usable item – many a comfortable summer's afternoon could be idled away in this craftsman's masterpiece.
These three items provide a microcosm of what this sale offers; traditional antiques, fresh to the market, in top condition and of the highest quality.
The sale will include 900 lots in the live section and commences at 10am on Wednesday 1st April. Viewing is on Tuesday 31st March from 10am until 4pm and on saleday from 8.30am to 10am. Sale day two commences at 10am on Thursday 2nd April.