Antiques & Provenance - Does it add value?
Provenance is the historic path of something and for many antiques it adds to the intrigue or dispels the myth and mystery.
I am frequently asked if the provenance of a piece does actually add value in a commercial sense. It is clear that it does have significant meaning and value for sentimental purposes where an heirloom is cherished because of its rich entwined history within a family.
I have always taken a view that the provenance will always add something by way of increasing interest, but not necessarily always increasing value.
Here are two examples of pieces of furniture Golding Young have sold at auction in Lincolnshire with provenance. One outstripped it's auction estimate, the other simply sold well.
The first item is a mid-19thC bonheur de jour in Louis XV style.  It's history by family repute was the Richardson Auction Sale of 1868 at Rock House in Stamford selling for the Estate of the late R N Newcomb.  The item catalogued as Lot 139 was marked in pencil for selling at £42.  A notable sum for the time, it had originally been designated as French but from later research I concluded  it was English manufacture by the firm of Holland & Sons, who were cabinet makers for Queen Victoria. The piece was of exhibition quality and with provenance added the price was always going to rise.
From the sale in 1868 it was believed to be retained in the same family gracing a home in Grantham.  When it came for auction with an estimate of £3000 to £5000 the hammer finally fell at £10,000 with many bids online and numerous telephone bidders eager to join the chase.
The second item is an early 19thC Irish mahogany sideboard of large proportions.  The size and style makes it is something that is difficult to sell at auction, but the provenance added the necessary interest that would have otherwise been diminished.
The sideboard was made for General George Vaughan Hart (1752-1833) for his house at Kilderry in Donegal. It remained in the family through various moves with its last resting place in our region.  The quality of the item was undoubted as was the provenance. When offered for sale at The Bourne Auction Rooms with an estimate of £2500 to £3000 there was certainly not appeal from the masses, but sufficient competition to secure a hammer price of £2,600.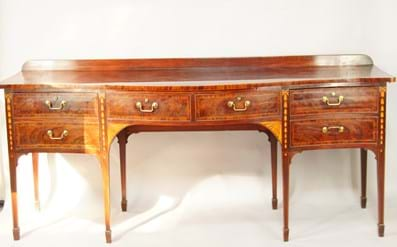 In summary, provenance can be an important factor.  It can add value in some cases but can also give a helping hand to something that would otherwise prove difficult.