A Gnome Engine propeller being sold at auction on December 4, is a remnant of the early days of aerial warfare, when British and German pilots fought a deadly game of cat and mouse in the skies above France.
Cleared from an unnamed RAF base in Lincolnshire, the propeller (Lot 3) is stamped '100hp', which identifies it as the version used on the Sopwith Camel - the legendary biplane that helped Britain defend the skies of Europe during the First World War.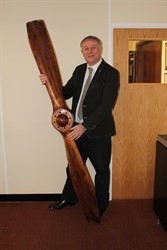 Although the Gnome Engine Company was based in France, the propeller itself would have been manufactured under licence in Britain and fitted to one of the thousands of Sopwith Camels built in this country during the conflict.
Although difficult to fly, the Camel became a favourite amongst fighter pilots as its manoeuvrability enabled them to outwit and outflank their German opponents on a regular basis and the plane was instrumental in establishing Allied air superiority.
Andrew Doubleday, saleroom manager stated: "By the end of the war, the Sopwith Camel was credited with shooting down nearly 1300 enemy aircraft, more than any other Allied plane. This unusual item offers a fantastic opportunity for any Militaria enthusiast to own a genuine piece of aerial history."
This lot and the complete sale catalogue can be viewed online at www.goldingyoung.com. Viewing will be open at the Grantham Auction Rooms on December 3 between 10-4pm and before the sale on December 4.