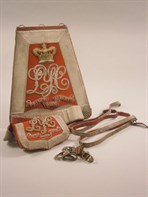 An 1844 pattern officer's dress sabretache from the Leicestershire Yeomanry Cavalry, also known as Prince Albert's Own Regiment, sold for £3,000 in the February sale at the Lincoln auction rooms.
The sabretache, which is a flat bag worn suspended from the belt of a cavalry soldier, was expected to sell for between £700 and £900 at the auction at Golding Young & Mawer on Wednesday (February 20). But interest from a commission bidder and another in the room ensured the price rapidly rose to more than four times its lowest estimate.
Made by Hamburger and Co of Covent Garden, the sabretache, which was sold with a matching cartridge pouch and crossbelt, was bought by a collector of militaria from Leicestershire.
A hallmarked silver Leicestershire Yeomanry Cavalry cartridge pouch dated 1910 which came from the same vendor sold for £480, against an estimate of between £300 and £400.
Auctioneer John Leatt said: "These items were consigned by a local collector and were of great interest to collectors of militaria. The fact they came from a Yeomanry Regiment from the Leicestershire area made them quite rare items and we expected a good deal of interest on sale day."
The sabretache was originally derived from a traditional Hungarian horseman's flat leather bag called a Tarsoly. Early examples have been found in tombs of the Magyar warriors from the 10th century Conquest of Pannonia.
In the early 18th century, the tarsoly was worn as part of the accoutrements of the hussar cavalry in Europe. The German name sabretache was adopted as 'tache' means pocket and the bags were used as pockets to hold orders and dispatches.
The sabretache was adopted by the light dragoon regiments of the British Army at the end of the 18th century and were still worn in combat during the Crimean War. By the turn of the 20th century, they had been abandoned for use in the field but were still worn by some regiments for ceremonial occasions.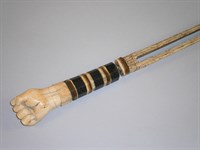 In the same sale, a late 18th to early 19th century walking stick carved from a Narwhal tusk with a handle made from marine ivory and shaped like a clenched hand or fist was expected to attract the interest of collectors.
This early example of scrimshaw, which would have been made by a sailor on board a whaling ship and was sold by a private collector from Yorkshire, made a hammer price of £1,000.
Another walking stick made from a Narwhal tusk with a handle carved in the form of an angry-looking hound with glass eyes sold for £420. The Victorian walking stick was brought into the auction house by a vendor from the East Coast area of Lincolnshire.
The Narhwal is the legendary 'unicorn of the sea' and it is thought that Narwhal horns used in trade or washed up on beaches gave credence to the myth of the unicorn. The Narwhal, which live in Arctic waters, only have two teeth and in males the left tooth grows out of the jaw into a long spiralled tusk that can reach 2.5 metres in length.
In the furniture section of the sale, an early Victorian mahogany extendable dining table sold for £1,000 and an 18th century sedan chair painted with various crests, which was in need of extensive restoration, sold for £800.
A William IV rosewood library table with an estimate of £300 to £400 sold for a hammer price of £650.
Among the clocks, a mid-18th century long case clock by James Howitt of Sunderland in a mahogany case sold for £1,000.
A mid-Victorian silver four-piece Neo-classical style tea service made £1,550 against an estimate of £600 to £800 and a Victorian oval silver two-handled tray with an estimate of between £700 and £900 sold for £1,000.
In the jewellery section, a charm bracelet with an 18-carat fancy link chain and 15 attached charms sold for £920, well above its £600 to £800 estimate.
Among the paintings, a late 19th to early 20th century School oil on canvas of Scarborough Bay sold for £1,500 against an estimate of between £400 and £600. The painting had a paper label on its reverse for Ryman and Co Ltd Fine Art Dealers of Oxford.
Meanwhile, a Goldscheider-type painted terracotta figure of a maiden carrying a vase of water sold for £700 and an early 19th century English Delft plate, decorated with Neo-classical swags, dated 1805 and bearing the name John Field, sold for £600 against an estimate of between £200 and £300.
A Skoda Fabia 2 HTP 70 car sold for £3,200 against an estimate of between £2,200 and £2,800.