An album of postcards produced by Lincoln printer J.W. Ruddock over 100 years ago is set to cause a stir at auction.
'The Artist' series of Edwardian picture postcards are copies of watercolour paintings showing famous landmarks across the country, including scenes of Lincoln such as the Cathedral, Newport Arch and Brayford Wharf, and others of London, Bath and York.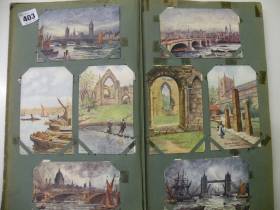 In total 144 postcards were produced and over 50 are contained within the album which will be going under the hammer at Thomas Mawer and Son of Portland Street on Saturday, September 4. The album is dated '23.09.05' and is dedicated from 'Stanley to Charlie'.
Auctioneer John Leatt said: "This postcard album will certainly attract the attention of collectors of ephemera and those interested in local history. The scenes of Lincoln over 100 years ago are particularly charming and it is unusual to see such a large collection come onto the market.
"We estimate the album will fetch between £100 and £200 on sale day."
J.W. Ruddock is one of Lincoln's oldest established firms. John William Ruddock was born in Malton, Yorkshire in 1851 and was apprenticed to a printer at the age of 14. He moved to Lincoln in 1872 to work for Charles Akrill and eight years later, Akrill helped Ruddock buy his own printing works at Whitefriars House on the High Street. In 1884, Ruddock bought Akrill's business too.
The current stationary shop at 287 High Street was bought at auction in 1904 and the printing works were moved into the back of the shop. In 1969, the print business was moved to Great Northern Terrace but the stationary shop remains on the High Street.
Scenes included in the postcard collection include Lincoln's Jews House, a view of the two towers of Lincoln Cathedral seen from Steep Hill with a woman wearing an apron standing in a doorway, choirboys feeding pigeons in the North Door of the Cathedral and 'Early Morning on the Strait'. There are also images of London's famous bridges, Beverley Minster, Shanklin Chine on the Isle of Wight, the Yorkshire Moors and Oxford's Christ Church.
Elsewhere in the sale, there are 20 lots of Beswickanimals including a connoisseur model of Arkle, the famous racehorse, which is expected to fetch between £50 and £80, 15 models of Beagle dogs which are estimated at £150 to £200, as well as two foxes.
In the silver and jewellery section is a large collection of lapidary (the art of working with precious or semi-precious stones) including a large collection of unmounted stones, jewellery mounts including rings and brooches, and fossils including ammonites.
The bygones section features a collection of seven tankards made from brass salvaged from World War II shells which are expected to fetch between £20 and £50 each. Each tankard is engraved with different maps and important dates from the various campaigns during the war.
The most stylish lot of the sale is a 1930s Enfield Grandfather Clock in a walnut case, retailed by Mansell of Lincoln, which is estimated to fetch between £100 and £150.
An interesting Victorian woolwork picture depicting a church and tree which reads 'Kirk Braddon, Isle of Man' is being sold with another similar picture and is estimated at £50 to £100. The picture is unusual because it uses embroidered and raised woolwork.
In the furniture section, two lots of Ercol furniture are expected to attract the interest of younger buyers keen to create a vintage look in their homes. The first lot is a kitchen table and four stick-back chairs in light elm which are expected to fetch between £80 and £100; the second lot is an unusual tall display unit with shelves and panel doors which is estimated at £50 to £100.
The next specialist fine art sale will be held on Friday and Saturday, October 1st and 2nd and will be combined with the regular monthly auction. Buyers will be able to view the sale and bid on-line via a live bidding system. The closing date for entries into this sale is Friday, September 3.
A full catalogue for the September sale will be available on-line a week before the sale at www.thosmawer.com . For more information phone Thomas Mawer and Son on (01522) 524984.