An album of postcards produced by Lincoln printer J.W. Ruddock over 100 years ago fetched £100 at auction.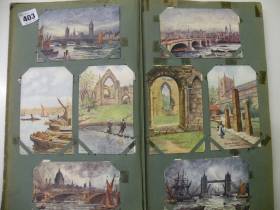 'The Artist' series of Edwardian picture postcards were copies of watercolour paintings showing famous landmarks across the country, including scenes of Lincoln such as the Cathedral, Newport Arch and Brayford Wharf, and others of London, Bath and York.
In total 144 postcards were produced and over 50 were contained within the album which featured in the latest sale at Thomas Mawer and Son of Portland Street on Saturday (September 4).
Auctioneer John Leatt said: "It was unusual to see such a large collection of these postcards come onto the market and as predicted, the album attracted collectors of ephemera and local history. We are delighted with the price achieved."
Scenes included in the postcard collection include Lincoln's Jews House, a view of the two towers of Lincoln Cathedral seen from Steep Hill with a woman wearing an apron standing in a doorway, choirboys feeding pigeons in the North Door of the Cathedral and 'Early Morning on the Strait'. There are also images of London's famous bridges, Beverley Minster, Shanklin Chine on the Isle of Wight, the Yorkshire Moors and Oxford's Christ Church.
Also in the bygones section, a brass portable microscope in a mahogany case by Beck of London, which was sold with a large quantity of microscope books and slides, fetched £260, and an Islamic sword and another sword fetched £280.
Elsewhere in the sale, a pair of late 19th century French ormalu plated candelabra with porcelain mounts fetched £240, well over the £50 to £80 estimate. A George VI silver four-piece tea service with floral
borders and brown Bakelite handles, made by S and W Sheffield in 1948, made £480, and a similar two-handled tray, consigned by the same owner, fetched £420.
Meanwhile, a late 19th century to early 20th century portrait miniature, well painted and presented in a white metal frame, fetched £480.
A large collection of lapidary (the art of working with precious or semi-precious stones), including a large collection of unmounted stones, jewellery mounts including rings and brooches, and fossils including ammonites, fetched just over £200.
The most stylish lot of the sale was a 1930s Enfield Grandfather Clock in a walnut case, retailed by Mansell of Lincoln, which fetched £180, well over its £80 to £120 estimate, whilst an early 19th century mahogany longcase clock, featuring a painted dial signed 'G. Horst of Sittingbourne', fetched £390.
In the furniture section, a pair of French mahogany and gilt brass single beds, estimated to fetch between £200 and £300, made a hammer price of £480 and an Ercol kitchen table and four stick-back chairs in light elm far outstripped estimates of between £80 and £100 to make £300.
The next specialist fine art sale will be held on Friday and Saturday, October 1st and 2nd and will be combined with the regular monthly auction. Buyers will be able to view the sale and bid on-line via a live bidding system.
A full catalogue for the October sale will be available on-line a week before the sale at www.thosmawer.com . For more information phone Thomas Mawer and Son on (01522) 524984.