Following on from the success in early December of the first Asian Art sale to be held in the evening, The Grantham Auction Rooms has its Spring offering of Asian Art on Wednesday, 4th March at 7pm.
Certain items are as good as any seen at a sale by Golding Young, but it must be remembered that this is also an ideal opportunity for any budget, with estimates ranging from £20 to several thousand.
Lot 3001, A knobkerrie, or South African war club, made from rhinoceros horn kicks off the auction and is certainly a high quality item with a great following. Found in North Lincolnshire, it is a modest looking item but made of a type of horn which sells per gram for far more than even gold.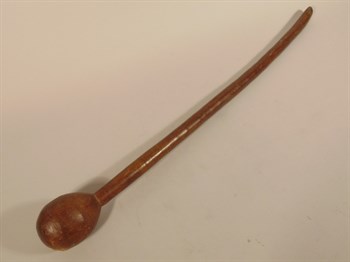 Many noses (excuse the pun) are turned up when such items come up for sale. The black rhino is one of the most endangered species and it is abhorrent and a disgrace that although illegal, they are still being continually slaughtered for the value of their horns. This item however is over 100 years old and it is completely legal to be sold. The animal this horn came from is long dead and preventing the sale of this horn will not prevent poachers today. If anything banning the sale of old and antique rhinoceros horn will likely only encourage the market to look to new horn, which can only be found on living animals.
Back to the Asian Art sale, we have an interesting and rare collection of jade, a good selection of amber beads from an extremely fine source and a smattering of silver in the jewellery section. There are large and impressive vases from the Ming period, decorative consignments of onyx finish figures and sculptures and a small quantity of tribal items. There are also items of furniture, rosewood stands and even a marriage chest to attract all buyers.
The quality of many lots can be summed up by a humble saucer; it is a finely decorated example from a private source fresh to the market, as are 90% of the lots in this sale.
From silver to pottery, porcelain to war clubs, there is literally something for all and the great danger is to assume there is nothing of interest; there is nearing 200 lots that cover and cater to all tastes and budgets ... come and buy.
The Asian Art Sale commences at The Grantham Auction Rooms at 7pm.