Border Fine Arts sculptures, made originally at Langholm in Scotland, are highly collectable for their realistic and sensitive depictions of wildlife, farming and other countryside related sculptures. The company was founded in 1974 by John Hammond, going from strength to strength and enjoying the superb modelling skills of various artists, the foremost of which was Ray Ayres.
A small representative collection of these delightful sculptures is being offered at the Bourne Collective Sale on Wednesday 9th August. Among the models on offer are a number of owls, cattle, figures with work horses, and other wild birds. Most striking are sculptures of mallards, a falcon and nesting chicks, and various James Heriot series sculptures including Winter Sheep Feeding, and Border Collie and puppies.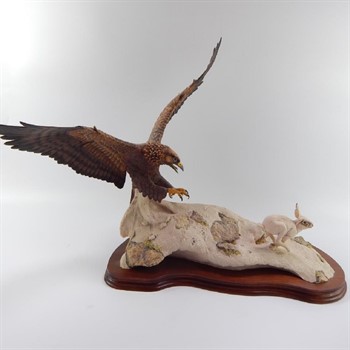 Perhaps the most striking sculpture is lot 210, a model of an eagle in flight pursuing a mountain hare entitled 'A Lucky Escape', made in 1988 in a limited edition of 950. It is one of twenty lots, numbers 201-220, with all lots anticipated to achieve somewhere in the region of £50-100 each.
The sale takes place on Wednesday August 9th at 10am at The Bourne Auction Rooms. Viewing is Tuesday 10am – 4pm and from 8:30 am – 10am on saleday.