Often in the antiques business a name becomes synonymous with a type or style of item. The words Globe Wernicke are often used to describe a bookcase that breaks down into sections to become portable and flexible in height. The original designs were patented by Otto Wernicke in 1892 and he agreed for the Globe Files Company to sell them under license in 1898. The company then bought out the patent and designs etc outright a year later. However, in 1902 Wernicke and Henry Yaiser, the owner of the company had an acrimonious split, ending after a battle in the courts. Wernicke was subsequently able to start a rival company (Macey Furniture Company) and another 20 or so companies began to make similar bookcases.
Today the original bookcases are still extremely popular all over the world. They are perfect for the home or commercial office due to their design and looks. Golding Young and Mawer in Lincoln are offering what senior valuer John Leatt describes as 'one of the best pairs of 'Globe' bookcases he has seen in 25 years in the auction business.' Consigned from a client in the Lincolnshire Wolds and not only in mahogany, which is rare, but also in totally original condition. Our auction estimate is £1000-1500.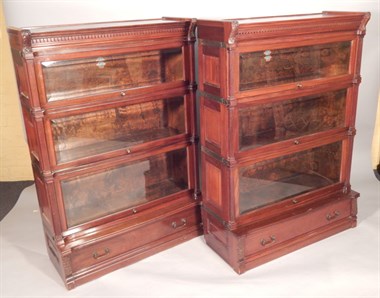 The sale is on Wednesday, 19th November at The Lincoln Auction Rooms from 10am. Viewing is 10am – 4pm on Tuesday, 18th November and from 8.30am on sale day.