The glass factory of Loetz has for a number of years been appreciated by Art Glass specialist and collectors. Beyond this group, little is really know about the maker. It is often not marked and the variety of shapes and patterns is vast, therefore making it sometimes difficult to identify.
The factory was founded by Johann Eisner in the southern Bohemian town of Klostermuhle, today part of the Czech Republic. His heirs sold the factory to a Martin Schmid in 1849 and he sold it himself two years later to a Frank Gerstner and his wife Susanne. Susanne Gerstner was the widow of a little known glass maker Johann Loetz (hence the name). Over the coming years a number of quality items were made, mainly in crystal, using techniques such as overlay and painting. The defining moment in the factory's history was the collaboration between the next owner Maximilian von Spaun and the glass maker Edward Prochaska. The former saw exhibitions of Tiffany Favrille in Vienna and Bohemia and was convinced Art Nouveau was the way ahead for the factory. This proved to be the case. The next eight years were the most profitable and also put the factory on the world stage.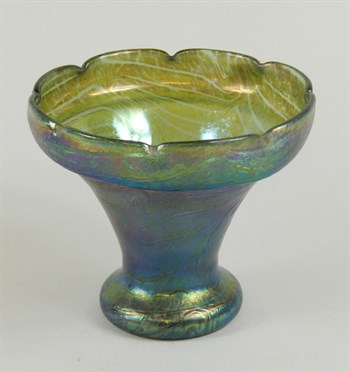 A piece from this period was discovered by Senior Valuer John Leatt amongst a mixed consignment of over 30 boxes. It has all the signs needed for an attribution to be made, namely the iridescence, the trailed design, the shape and importantly the quality. The small vase is expected to make upwards of £250 in Golding Young and Mawer's Collective Sale on the 18th of May at The Lincoln Auction Rooms.
Along a similar vein a cameo glass scent bottle was also discovered from a local deceased estate. Slightly earlier than the Loetz vase, the piece is decorated and has all the characteristics of the Thomas Webb factory from Stourbridge in England. Again the item is expected to make over £200.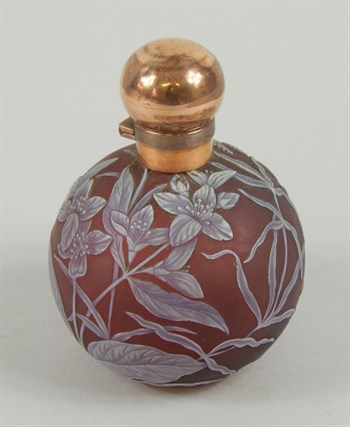 Elsewhere in the sale there are collections of ceramics to include Meissen and modern items, antique fishing tackle to include Hardy, cameras and musical instruments including pieces by the Sleaford maker Alan Clay. There is also furniture by popular makers such as Ercol and G-Plan, silver, jewellery and watches, coins, medals, books and ephemera to include postcards and stamps. Overall there is just over 1300 lots to be sold concurrently in one day.
The Collective Sale will be held at The Lincoln Auction Rooms on Wednesday 18th May from 10am. Viewing is on Tuesday 15th May from 10am until 4pm and on saleday from 8.30am.