We are expecting a bidding war when over 400 Militaria lots go under the hammer at The Grantham Auction Rooms on February 4, 2015.
Arms and Militaria is an area that is showing a sustained growth in values and we expect to see this continue. The double private collection is already attracting worldwide interest due to the quality and rarity of some of the pieces.
This is good news for buyers and sellers alike. Militaria represents an excellent investment opportunity for buyers, and for sellers who have any medals, arms, military items, uniforms or cap badges, the sale on the 4 February is the perfect place to sell.
Already consigned for the sale are over 30 helmets, diverse and rare as one could wish to see and truly hold all of the collecting keys:
Individuality – they are all genuine examples
Condition – they retain their inner leather sections in many cases and are mainly free from dents and damage
Size – they take up very little room
Rarity – they are as collectible as ever and will attract interest from around the world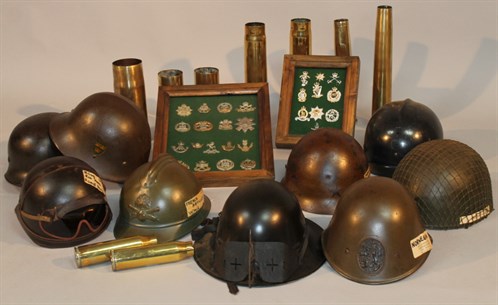 Key lot highlights include:
A Switzerland pattern 1918 Russian war helmet with leather interior and in excellent condition
A B.Coy parachute battalion leather helmet with eye protectors
Rare cap badges
Shell cases from the very large to the very small
Scarce war related books
Choice and variety is guaranteed with items from bygone conflicts to those being fought today.
Resident auctioneer & valuer Craig Bewick said: "This type of sale rarely comes up with high quality Militaria lots in large number, fresh to the market and at sensible estimates. This is great news for buyers and sellers alike. The sale is already attracting lots of international interest."
If you have an item you would like to consign contact the saleroom on 01476 565118.