Our November 2021 quarterly Lincoln Fine Art Auction consisted of 444 lots, five of which illustrate the interest for 20thC artists to those collectors with a budget of £5,000.
First chronologically, is Algernon Cecil Newton born in Hampstead, London on the 23rd February 1880.  He had a traditional and impressive education studying at Clare College Oxford,  Frank Calderon's School of Animal Painting and the London School of Art.  A Painter of landscapes and farm scenes, especially of buildings and canals around Paddington and St John's Wood, he died in 1968. 
A mixed media study thought to be a preparatory sketch for Downland Landscape sold for £2,150. (Shown Above)
George Noel Bouvard (1912-1972) was born in France to an artistic family.  Professionally trained, he worked with his father, best known for works of Venetian canals.  Interestingly, Noel was better known under the pseudonyms Marc Aldine or Antoine Bouvard.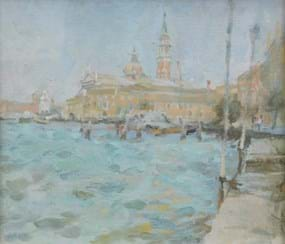 The View of San Giorgio Maggiore made £1,500 at the auction.
A large garden terrace scene was one of a number of works offered at the auction by William Bowyer.
Born in Leek, Staffordshire, in 1926 he studied at Burslem School and the Royal College of Art.  He worked alongside many of the recognised British artists and was President of the New English Art Club for 30 years; he died in 2015.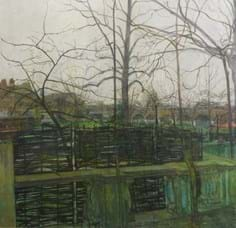 The oil on canvas sold within auction estimate for £800.
Andrew Macara is a British Artist who exhibits at the New English Art Club.  Born in Derbyshire in 1944, his style has developed from the more traditional landscape painters. A beach scene with figures made £650 at auction.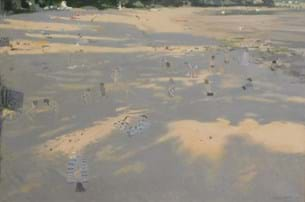 Finally, Chittonveanu Mazumdar is from an Indian artist family, born in Paris in 1916.  He has exhibited widely and to much positive critical acclaim.  At the auction an acrylic on paper of a post structural scene  of Paris sold for £700.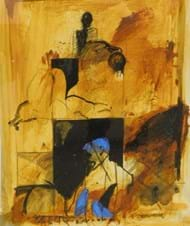 Full illustrated results avaliable here.