We are celebrating our 150 year anniversary by running an ambitious roadshow programme across the East Midlands throughout 2014.
The Lincolnshire-based firm has grown to be one of the largest Chartered Auctioneers and Valuers in the region, with salesrooms in Bourne, Grantham, and Lincoln, and a valuation office in Stamford.
Colin Young, Managing Director said: "A roadshow seemed like the perfect way to celebrate 150 years success. What better way to meet with and say thank you to the people who have helped to make the business what it is today."
The programme commenced at the Peterborough Festival of Antiques on the 21st and 22nd March and was attended by Colin Young, Jan Squires & Helen Hutton on Day One and Craig Bewick and Andrew Doubleday, on day two. The first roadshow date was a perfect success and has set a feeling of optimism for the remaining dates throughout 2014.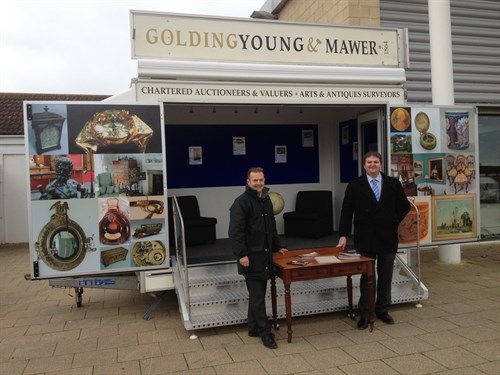 Craig commented on the Peterborough Fair of Antiques, "It is seen as one of the larger and more prestigious fairs in the Midlands, running twice a year for two days at a time. It's the perfect way to bring antiques specialists, sellers, and buyers together. We spoke to a number of interesting people during the fair. It proved to be a very successful two days of networking for the firm."
The roadshow stand gained a well-known admirer at the event; Bargain Hunt were filming and Tim Wonnacott and the experts visited the stand.
The highlight of the events programme will be a special 150th anniversary sale on September 2-4 taking place across the three salerooms on consecutive days.
Colin Young, Managing Director said: "This really is a very special year for the auction rooms. Our 150th anniversary sale will offer sellers a unique opportunity to consign to this prestigious sale. In turn our buyers, dealers and collectors will have the opportunity to pick up some very special items.
We've already accepted some consignments from some of the most interesting collections from our established private client base. With a minimum valuation of £150 and only 1000 lots to be sold per venue, per day it will be a truly exceptional sale"
Members of the public are invited to submit their items for consignment into the 150th anniversary sale by Friday, July 18.
The Golding Young & Mawer team will be visiting a number of venues and dates during their 2014 roadshow:
4-5 May Southwell Racecourse
10-11May Newark & Notts County Show
11 May Spalding Antiques Fair
24-26 May Stamford Meadows
1st June Rutland County Show
14-15 June Market Rasen Racecourse
18-19 June Lincolnshire Show
4-6 July Grimsthorpe Castle
2-4 September 150th Anniversary Sale
13-14 September Southwell Racecourse
8-9 November Northants County Cricket Ground
23rd November Skegness North Shore Hotel & Golf Club
Richard Plant, Consultant Valuation & Auctioneer said: "We look forward to seeing the public at one of the events and to offer information and advice on the buying and selling of antiques."