A collection of auction catalogues detailing the sale of land and property in Lincolnshire around 100 years ago are set to go under the hammer.
The fascinating ephemera, which includes the sale of Nettleham Hall and land in the Skegness, Mablethorpe and Boston areas, will be featured in the next sale at auctioneers Thomas Mawer and Son of Portland Street, Lincoln on Saturday, April 10.
Auctioneer John Leatt said: "These catalogues are fascinating records of land and property auctions held around 100 years ago. Some contain photographs, maps and illustrations and we expect them to appeal to local collectors, historians and museums.
"We have estimated this lot to fetch between £50 and £100 on sale day."
A catalogue for the sale of Nettleham Hall describes it as a 'charming stone built Georgian house with views of Lincoln Cathedral' which was sold with three acres of gardens and 1,500 acres of shooting land. (The hall was destroyed by fire in 1937 and is now derelict.)
Another brochure details the particulars for 'Limefield' on Greetwell Road, Lincoln which was previously occupied by the late Mrs Jane Sarah Ashley and auctioned with 'extensive pleasure gardens, greenhouses, stabling and outbuildings' on December 2nd, 1910. A newspaper report about the auction pasted into the brochure states that 'Mr Whaley bid £3,000 on behalf of Mr Charles Pratt. There were no other bidders and the property was withdrawn.'
Freehold estates in the parishes of Ashby Puerorum, Salmonby, Burgh-le-Marsh, Addlethorpe and Winthorpe, including the Manor at Ashby Puerorum, were sold at the White Hart in Spilsby in May 1913. Meanwhile, the Greenfield House, the White House and Hutchinson's Farm at Friskney were included in a sale of land in 1914.
Other brochures detail the sale of estates at Sibsey, Kirton Fen, Sutterton Fen, Kirton Middle Fen at Boston in 1914, whilst the sale of the West Butterwick Freehold Estate in 1911 included The Hall, Fleet Farm, West End Farm, South Ewesters' Farm, North Ewesters' Farm, The Church Farm and Butterwick Grange Farm.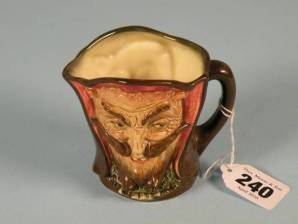 Elsewhere in the sale, three collections of approximately 50 Royal Doulton character jugs and figurines are expected to attract interest from collectors. In particular a set of eight Royal Doulton figures of ladies based on designs by Kate Greenaway are expected to fetch between £300 and £500, and a rare medium-size double sided character jug of Mephistopheles, the devil to whom Faust sold his soul, is estimated at £100 to £200.
An early 19th century 30-piece miniature dolls' tea service, printed with stars and flowers, is estimated to fetch between £80 and £100.
In the bygones section, the most unusual item is an early 20th century instrument with teats for suckling piglets or lambs called 'The Improved Arnold Foster Mother', which is estimated at just £10 to £20.
There is also an early 20th century self-propelling, three-wheeled invalid carriage made by Hough of Southport which is estimated to fetch between £50 and £100, and a butcher's bike which is expected to make between £10 and £20.
The bygones section also contains a collection of firefighting related items, including hose fittings, a mechanical foam generator, vintage fire extinguishers, hats and gauges, which are expected to fetch between £10 and £100.
In the furniture section, 11 oak boardroom tables, including two curved tables, with leather inset tops which came from Forbes House in London's Belgravia, the office of the Society of Motor Manufacturers and Traders. They are expected to fetch between £50 and £100 each.
There is also a late 19th century to early 20th century Jamaican wagon in the form of a Victorian what-not which is estimated to fetch between £50 and £100. These pieces of furniture were typically made by local craftsmen from timber they found lying around.
A full catalogue will be available online a week before the sale at www.thosmawer.com For more information phone (01522) 524984.